Cincinnati Plantation Shutters
Sunburst Shutters Cincinnati delivers every feature you could want from an interior shutter. Our interior shutters give your living space unmatched visual appeal, privacy, light management, and energy efficiency. Plus more!
Custom Shutters In Cincinnati For Your Home
Plantation shutters in Cincinnati are a great window treatment for your home because they're beautifully crafted - both outside and in! Their louvers give your window a clean, modern look. And we manufacture our plantation shutters for high energy efficiency and endurance so your stunning investment gives you huge savings and increases your home's value.
Plantation shutters are highly adaptable, as well. By easily tilting the louvers, plantation shutters open up the view and sunlight you need. Louvers are the slats in the panel that you can move to increase – or decrease – the light you let into the room. They can be moved using a mounted tilt rod.
Whatever your specific needs might be, from specialty window shapes and matching colors to frame design, we have the best interior shutters in Cincinnati to work with your space.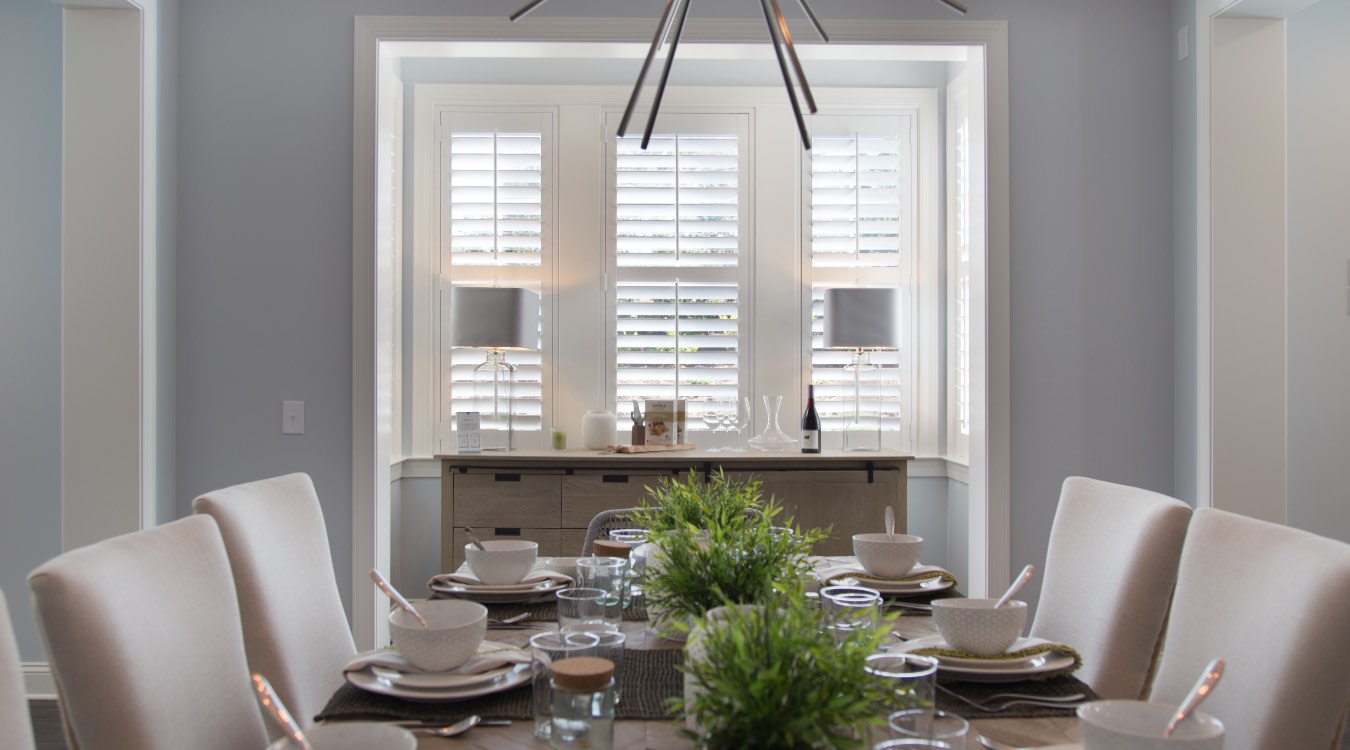 Common Plantation Shutter Questions
Where do plantation shutters get their name?

Plantation shutters got that name because of their frequent usage in expansive plantations and estates, chiefly in the American south, where they were desired for their fashionable looks as well as their potential to block heat from outside.

What style of shutter should I choose for my bathroom or family room?

Any room will have a few unique needs. That's why we've assembled Sunburst's

Total Room Window Treatment Guide

so you can select the best window treatment for each room in Cincinnati houses.

Where are plantation shutters made?

Polywood plantation shutters are completely constructed and put together in the U.S.A.
What Plantation Shutters Can Do For Cincinnati Homes
The different louver sizes of plantation shutters allow you the most unobstructed view of your Cincinnati neighborhood while beautifying your home. Plantation shutters give you hands down the most light, temperature, and privacy, privacy, light, and temperature control of any window treatment.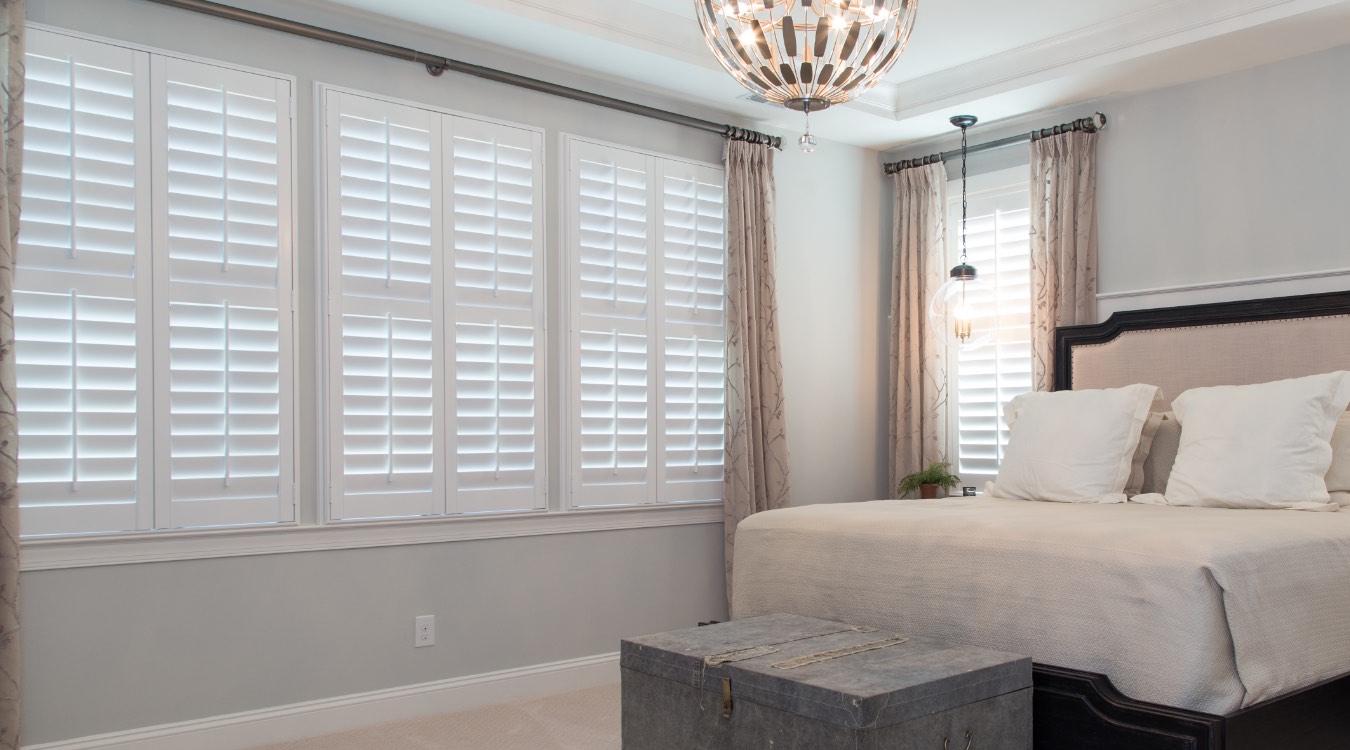 Varying louver sizes can also mean fewer louvers over your window. That's why large louvers give plantation shutters their updated lines. A modern style and simple control of brightness and temperature make plantation shutters the favored choice of interior shutters in Cincinnati.
Because of the way they're put up on your window, plantation shutters are a permanent fixture. When your home is appraised for resale, plantation shutters raise its estimated market price. You get to live it up with your shutters while you live there now – and take advantage of your investment later, when you sell your home. It's a win-win investment.
We design plantation shutters that fit your window and your decor seamlessly. That's why we bring you these premium brands of custom plantation shutters.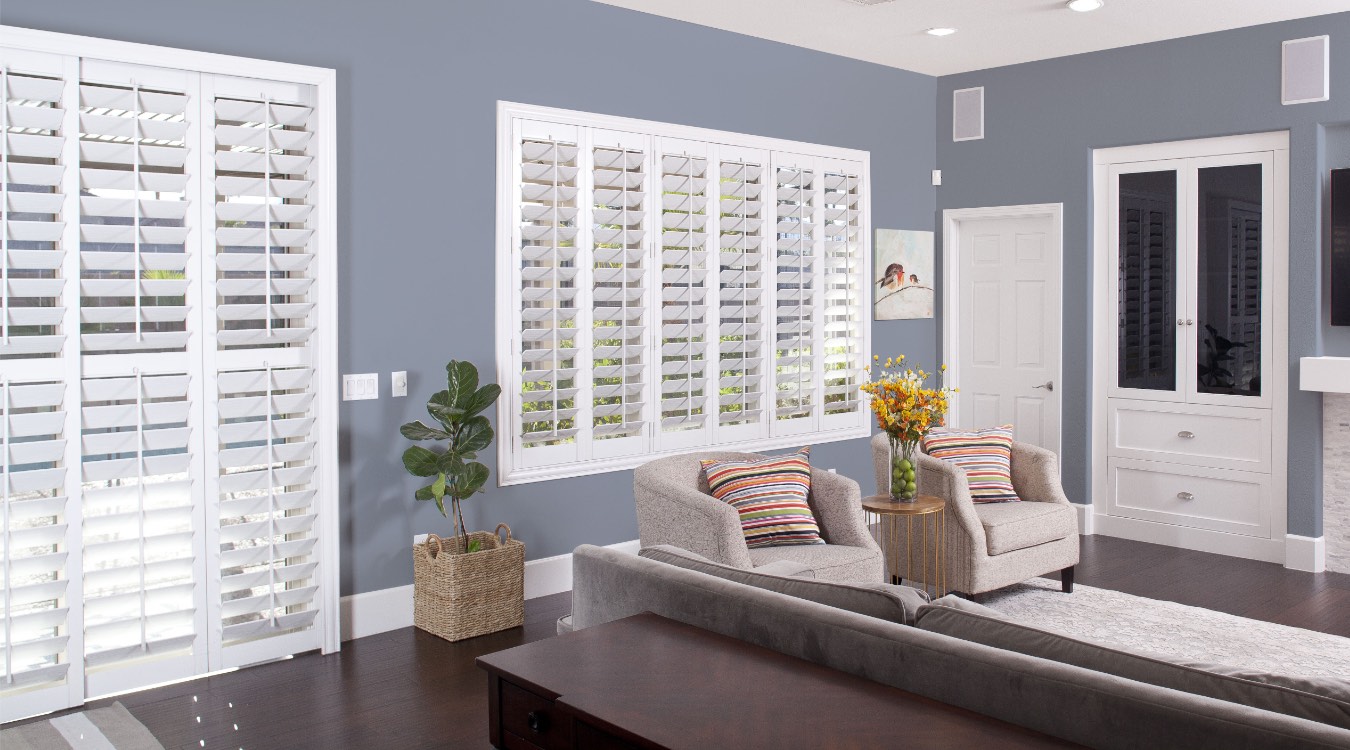 Composed of a solid-engineered wood substitute, Polywood® plantation shutters won't chip, warp, crack, or split. In addition, the color on these shutters won't fade or yellow. Our colors stay strong because we bake on our premium paint finish and pair it with UV stabilizers that make the premium synthetic "sunlight resilient." So, no matter how intensely the Cincinnati sun shines, your shutters will look as beautiful as the day they were first installed!
Polywood plantation shutters are also the top of the line among insulating shutters, letting your house become more energy efficient than it ever was. Read about the Polywood Insulating System® to discover the energy efficiency boost Polywood shutters can give your home.
We custom make our Polywood shutters so they look stunning on your Cincinnati windows – and work smoothly when you open and close them.
DESIGN YOUR SHUTTERS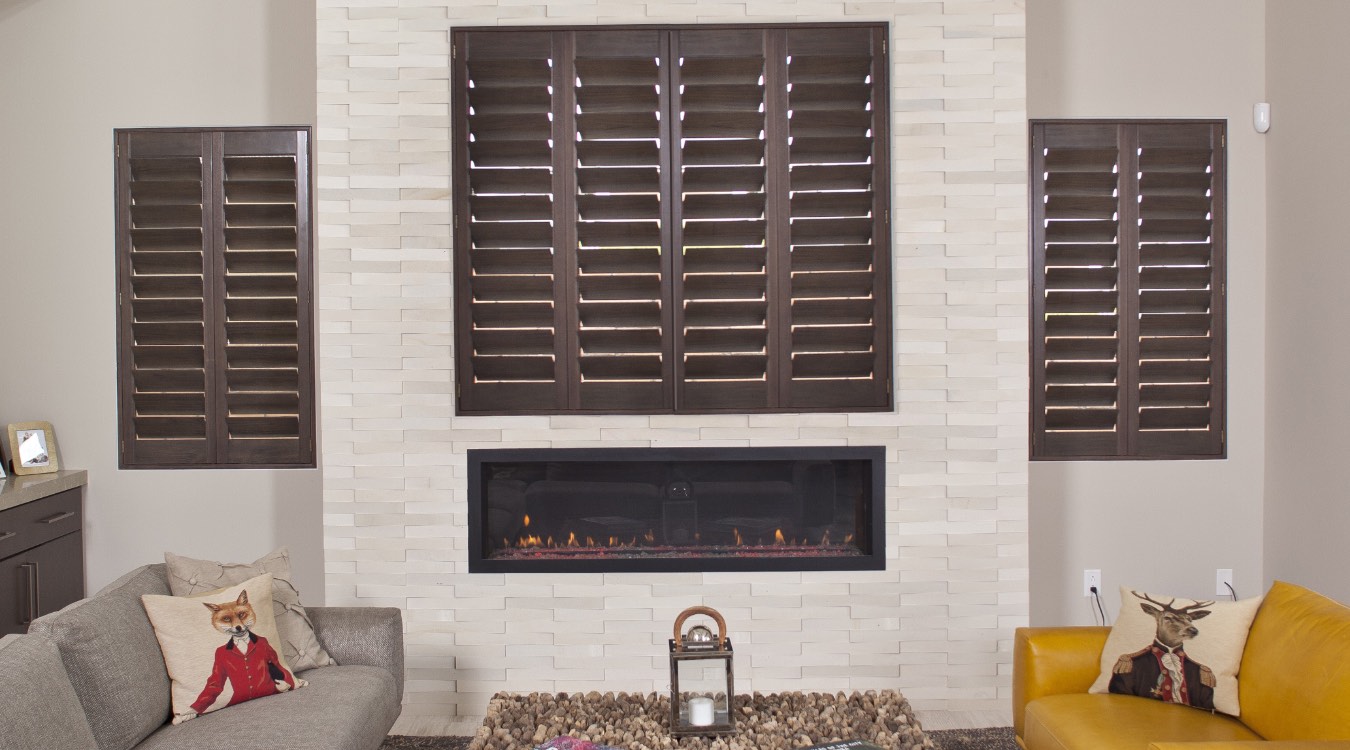 If you're looking for a premium wood plantation shutter, you've found it. Ovation® hardwood shutters are hand-made from solid teak so you can be sure they are built to last. A five-star wood shutter, Ovation shutters are provided in various louver sizes that feature the durability of furniture-grade hardwood.
Do you have a certain shade in your head to go with your decor? Ovation plantation shutters can be found in 28 different wood stains and 11 beautiful paints, so you can exactly match your previous window trim or complement the colors of your house.
We craft all of our Ovation plantation shutters to fit your Cincinnati windows perfectly and work flawlessly.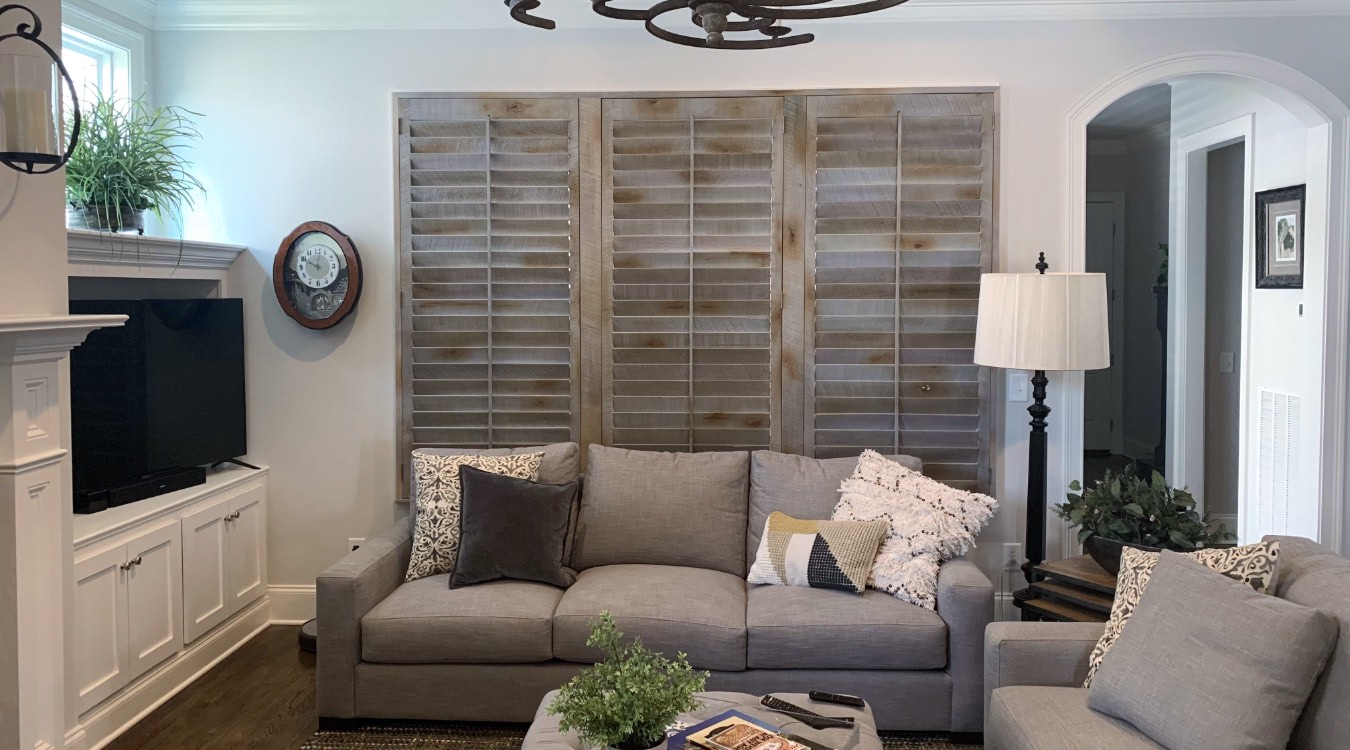 Add a contemporary touch to your residence with reclaimed wood shutters. Each individual shutter louver has its own specific finish and color, built by Mother Nature herself. We custom build these shutters to fit any window in your home.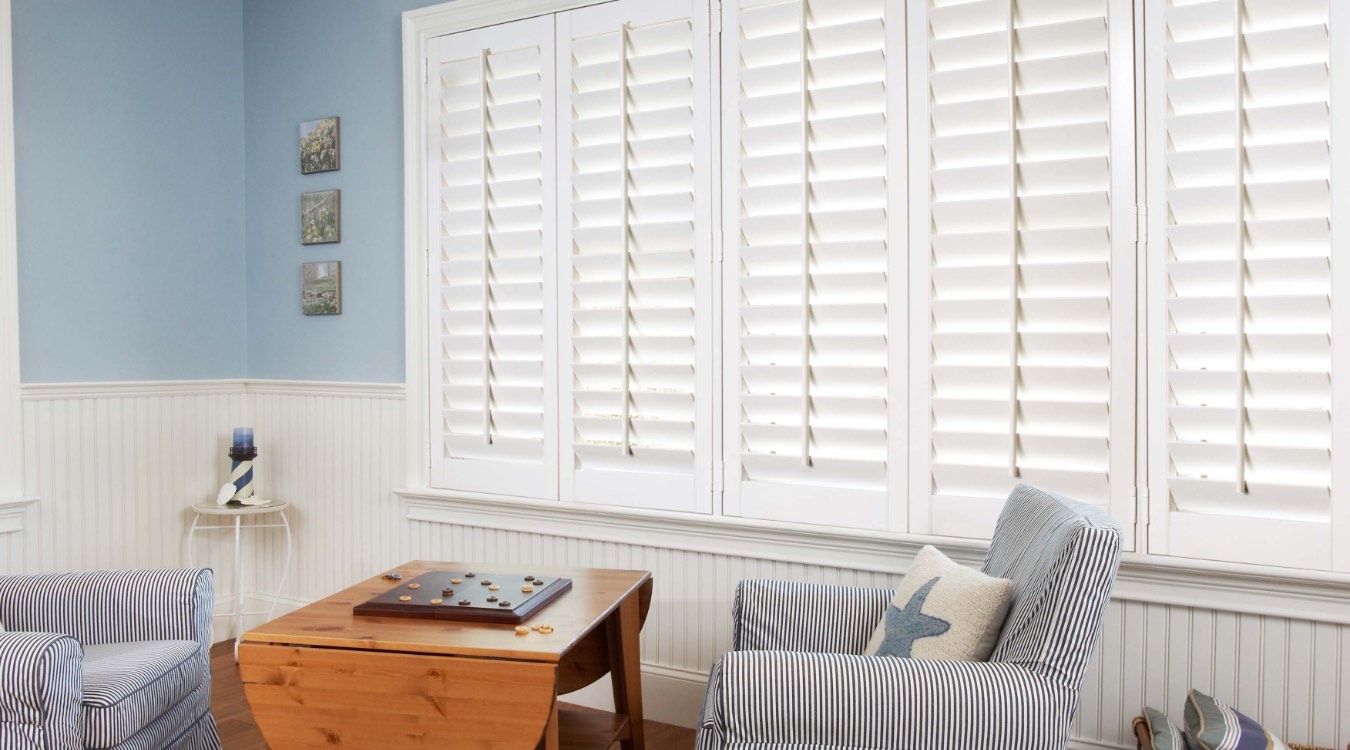 Studio shutters are the latest offering from Sunburst Shutters Cincinnati. Uniquely engineered to offer both the elegant looks of plantation shutters in addition to home value, Studio shutters are a sleek, streamlined window treatment.
Schedule a free in-home consultation today by calling 513-216-9740 or filling out the form below!