Work From Home Easier In Cincinnati With These Home Office Improvements
For some, working from home has become the new normal -- one with some unique obstacles.
Whether you're a telecommuting juggernaut or need to make a homebound workspace on the fly, the concept of working within your day-to-day living space doesn't have to mean sharing your dining room table. The key to an efficient home workspace is using items that will make life simpler for day-to-day activity. But this space should also be aesthetically pleasing since you have to sleep here also.
From ergonomic desks to energy-efficient plantation shutters, here are five quick home improvements that allow you to work from home easier.
Your Home Office Should Be A Defined Space
While lounging on the sofa and opening your laptop may seem comforting at first glance, not separating work and relaxation can be a detriment to your psyche.
If you haven't yet, make a workspace in the house. This place should be yours, putting other activities for the rest of the house. This will help you steer clear from distractions. You don't necessarily need a heavy oak desk with a dedicated outside entrance, but you should at least try to use a table and seat that is "work only."
Have a small area in the dining room that would be the perfect work center? Create a hidden retreat in your open floor plan by adding a simple, elegant sliding barn door or panel track as a room divider.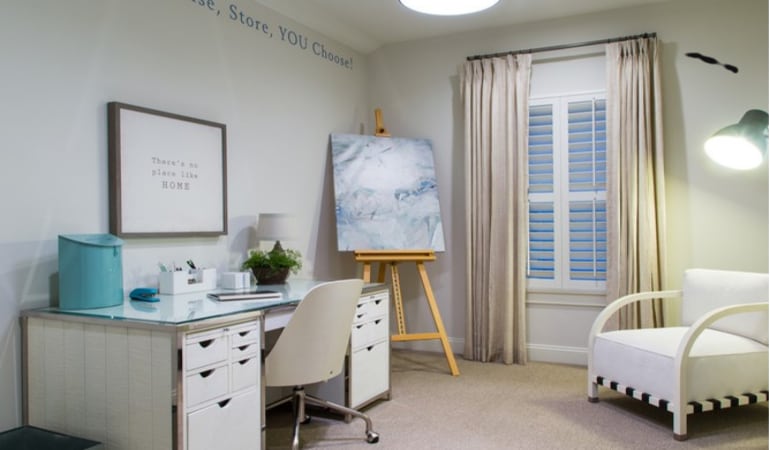 Pick A Work Space That Fits With Your Work
When the majority of your workday is spent seated, you need furniture that gives good support while catering to your space needs. That means using the perfect work surface.
Now, here's one pro tip: avoid a "fix for now" desk solution. A side table that doubles as your desk from 9-5 will only become annoying. You need a space that adapts to your workplace rituals. If you primarily use a laptop then a mini office desk or committed table is fine. But if you're juggling papers, or prefer a complicated desktop setup, you probably want a larger desk.
If you rather not buy a standard desk, build one from scratch. An old door or particleboard on top of filing cabinets can easily transform into a usable work center. When you finally find the correct workspace, the easier work from home can seem in Cincinnati.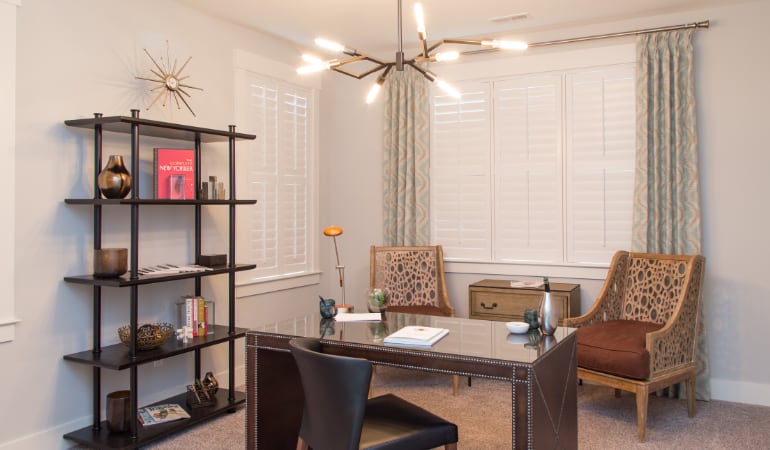 Balance Natural Sunlight By Choosing The Right Window Coverings
The right lighting can make or break your next video conference. Not enough backlight and you're bathed in shadow, but too much sun glare, and you're looking like a ghost. The amount of outside light can also can make you energetic or sleepy.
To make work at home easier, get a window treatment that can direct light. Plantation shutters, as an example, have large louvers that can be angled so that your home office always has the right amount of natural light without harsh sun glare. They will also help block outside racket, like traffic or lawnmowers. And when your plantation shutters are made of faux wood, they're also energy-efficient.
Luckily, Polywood shutters are an aesthetically beautiful window treatment for your home office, not to mention they are easy to wipe down and operate.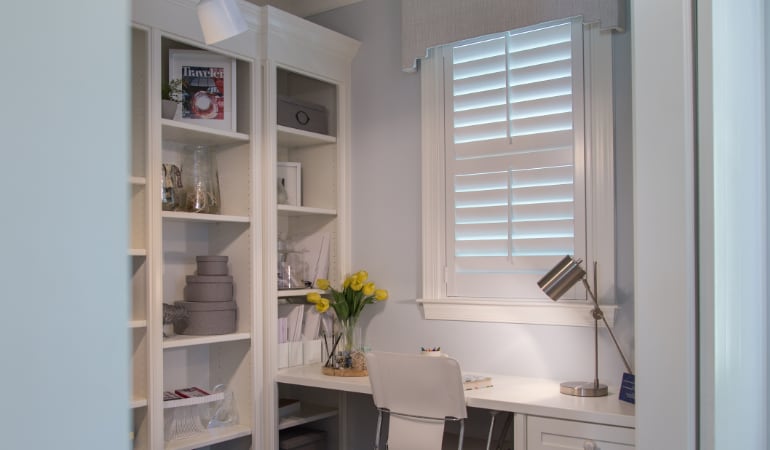 Upgrade Your Seat From That Uncomfortable Chair
After some time in your new and improved work space, you start to realize that sitting in that stiff kitchen chair just isn't doing it.
Opt for an an actual office chair to make you more comfortable, or improve your current seat with a back support insert to make it last until you decide on your next chair. Then again, you can just get a standing desk, and then your kitchen seat might suffice.
It's Alright To Experiment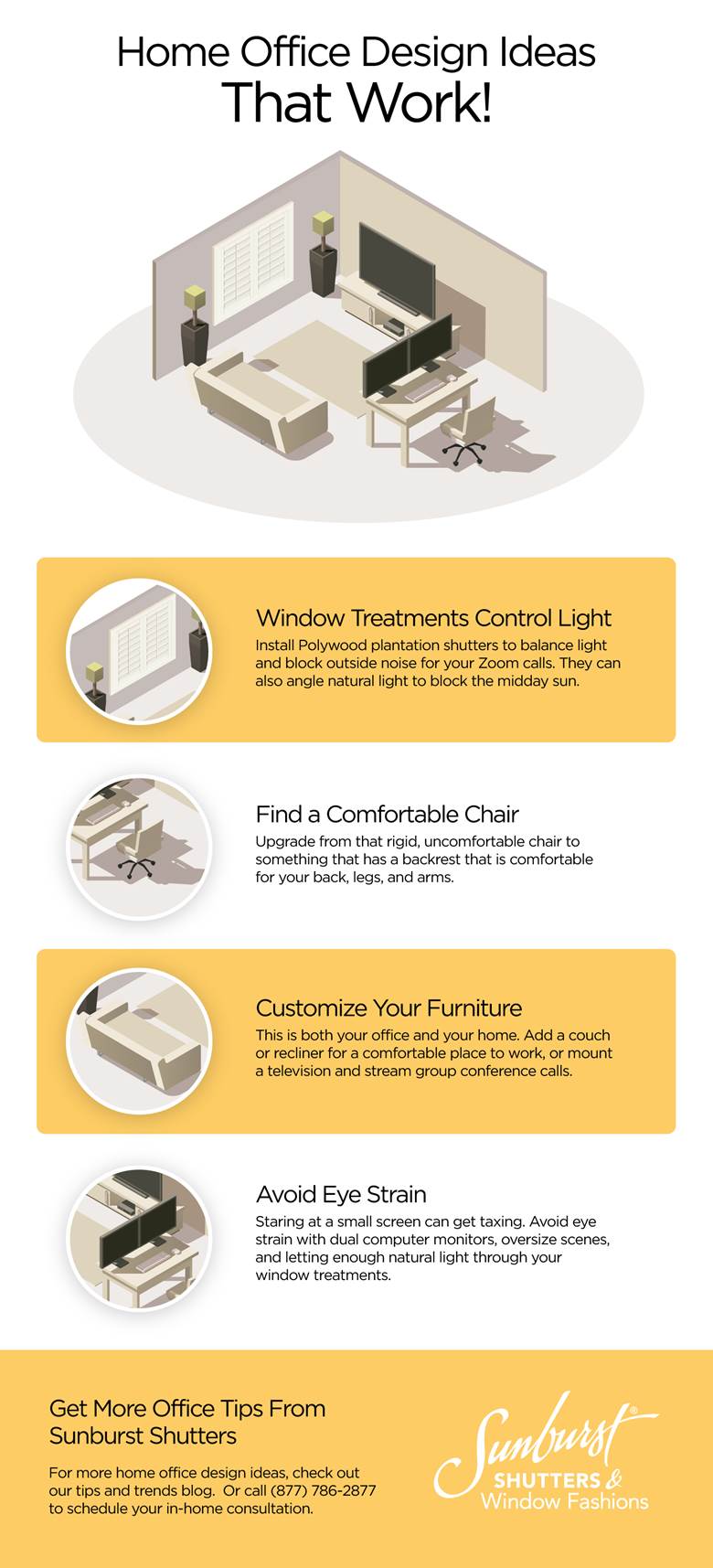 One of the perks of telecommuting is that you get to arrange your area outside the traditional cubicle layout. However, sometimes figuring out the best set-up takes time and a heap of experimentation. And sometimes it takes thinking outside the box.
Keep asking yourself about what the best way to set up the office. You might find out that you need a couple computer monitors instead of an underpowered 15-inch screen. You might even prefer three. Or maybe you work best by using a wireless keyboard and mouse and two TV-sized screens attached to the wall. From standing desks to overstuffed recliners -- it's your choice. And if it doesn't work out, just switch it out without submitting an expense report.
Begin your Home Office Upgrade in Cincinnati with Sunburst Shutters
Are you ready to transform your space? Just call
513-216-9740
or send in the form below to reserve your in-home consultation. The design experts at Sunburst Shutters Cincinnati will help you choose the window coverings that should take your office to the next level and make work at home easier in Cincinnati.