Window Treatments for High Ceiling Windows in Cincinnati
Many homes around Cincinnati have that one window or group of windows that's positioned high up on the wall close to the ceiling, or is so tall that it may be out of arm's length. While these high ceiling windows are unique and beautiful, they might cause stress when shopping for high ceiling window treatments.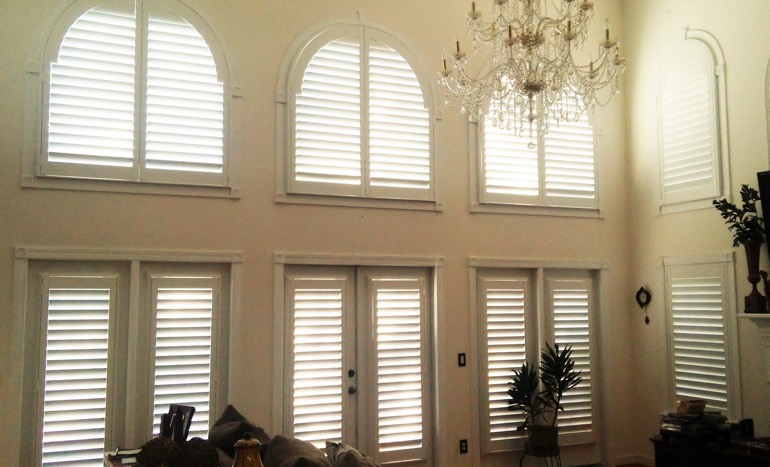 But there's no need to fret - there's no window Sunburst Shutters Cincinnati has run into that we haven't turned into something stunning. Let's examine some of the best choices for window treatments for the tall and high ceiling windows in your Cincinnati home.
Tall Window Plantation Shutters
For high ceiling windows, the lower maintenance, the better. That's why
plantation shutters
should be one of your foremost selections for those windows. Typically the first question about window treatments for a window high up on a wall is "How will I open and shut it?" For shutters, that's hardly a concern, since homeowners usually have the louvers placed at a single, desireable angle permanently, so just the right amount of light comes in while still protecting your privacy.
If regular louver adjustment is desired, there's no need to get out the stepladder. We'll provide you with a telescoping pole to tweak the tilt rod, giving you easy control over your shutters. And after you've adjusted the shutter, the pole telescopes down for easy storage until you're ready to use it again.
Another stressor which is common with high ceiling window treatments is when it comes time to clean, just one more problem that plantation shutters can solve. With their material, color, and angled construction, Polywood® plantation shutters don't require cleaning as often as other window treatments. And when the time does come to clean, the entire shutter can be cleaned with a simple cloth, without moving or taking the shutters down.
All of these features, paired with plantation shutters' top-notch energy efficiency, make for a great fit for high windows.
Automatic Shades Make Tall Windows Easy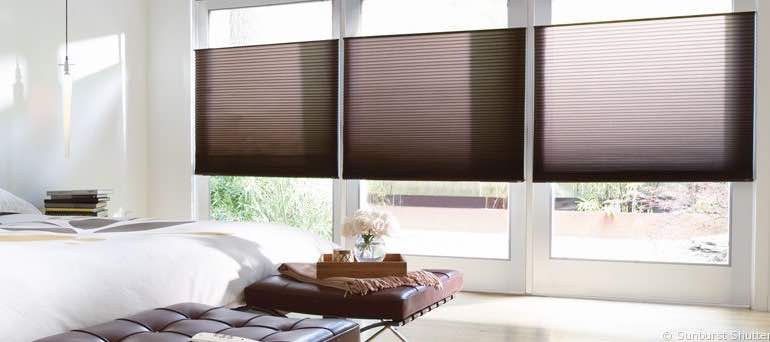 What's almost as simple as setting your high window treatment in a single spot? Opening and shutting it with the push of a button! That's what automated shades bring to the table, offering trendy looks with modern convenience.
Automatic shades are a perfect partner for high ceiling windows, especially since you can choose to either operate your shades the normal way, or with a control device. Your shades have at long last entered the new millennium!
Your Perfect Window Treatments Are Within Reach
Don't let the height of your windows discourage you from getting the best product for your house. Sunburst Shutters Cincinnati will take care of the hard part when you schedule your
free in-home design consultation
. We'll do any measuring and the entire installation so you can rest easy knowing your windows are in good hands. Get in touch with us today at
513-216-9740
or schedule a meeting online - we're looking forward to helping!