When To Put Roman Window Shades In Cincinnati
Distinctive Roman shades blend the beauty of drapery with the practicality of window shades. It's not surprising that Cincinnati families admire them! But you may wonder how to use these sought-after window treatments in your rooms. Fortunately, adaptable Roman shades look great in just about every area of your house. When you have an understanding how they are used and where they can be placed, you'll be set to request your own custom Roman shades.
How Roman Shades Work
Roman shades function in a similar fashion as regular roller shades in Cincinnati. Simply extend them down to cover your windows, then direct them up to get sunlight and a view. You may select between pull-bars or pull-cords to adjust them. You can also find motorized Roman shades that open and close with the easy press of a remote.
The beauty of Roman shades is derived from the folds and pleats that emulate drapery, bringing an inspired soft highlight to your windows. Available in a multitude of materials, you can choose the degree of privacy and light management you want. More sheer choices will let in a soft glow of light. More opaque materials will stop most light and keep passersby from seeing in.
Where To Put Roman Shades In Your Cincinnati Home
You can put Roman shades in almost any room that you desire. Their straightforward elegance is suitable for the majority of decor styles, and it's easy to track them down in patterns and colors to suit your tastes. They're easy to use too, so it makes sense to put them on windows where you often like to alter light or privacy levels.
Roman shades are a great replacement for formal curtains and drapery that look too fancy or are difficult to clean. They work well in parlors and living rooms where you might welcome company. They bring an air of sophistication but provide command over exterior light and privacy. You may effortlessly manipulate them if the sun shines in people's faces or for privacy while your attendees stay to talk at the dinner table all evening.
Roman shades also bring a bit of style to bedroom windows. The distinctive folds of the fabric harmonize nicely with your comfy bedding. They are usually a great deal more extravagant than the standard blinds countless people put in bedrooms and are a welcome substitute for curtains. Select opaque Roman window shades in Cincinnati if you plan to put them in bedrooms. The thick covering will obstruct light while you're attempting to sleep.
When It's Best Not To Use Roman Shades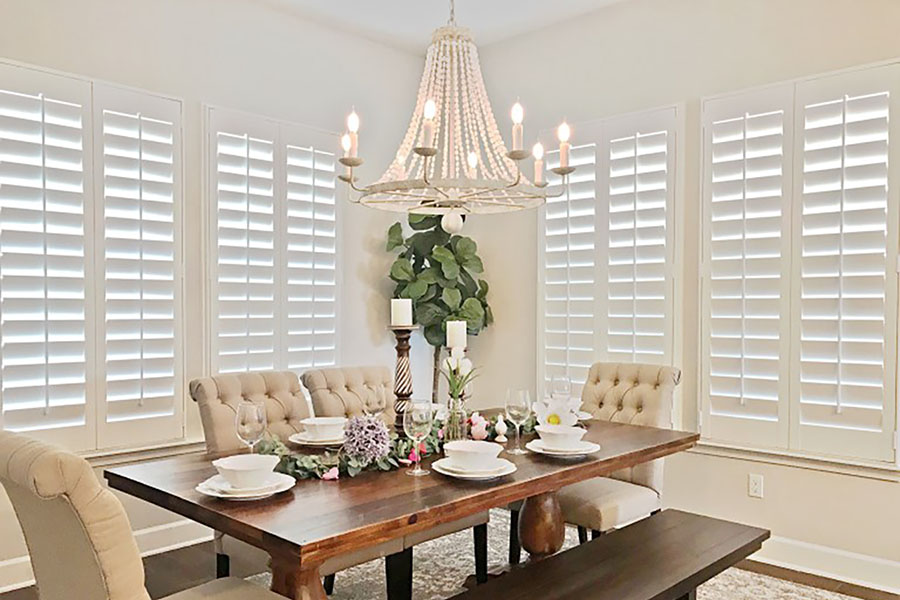 Roman shades look beautiful in every space, but they likely won't hold up well when subjected to particular environments. To illustrate, cloth window shades don't work well in high-humidity bathrooms. The moisture in the air causes their fibers to break down over time, and wet fabric encourages mold.
Similarly, your Roman shades are likely to get damaged in a window over the kitchen sink where they will be sprayed with water, other liquids, and food. They also may not withstand for long periods of time in particularly warm climates. If you wish to have eye-catching window treatments in these spots or in hotter climates, choose water-repellent and tough Polywood® interior shutters, and save your cloth Roman shades for somewhere else.
Find Beautiful Roman Shades At Sunburst Shutters Cincinnati
If you're looking for Roman window shades in Cincinnati, you've ventured to the right place. Sunburst Shutters Cincinnati has a comprehensive selection of window shades and various window treatment fashions for your residence. Request a complimentary at-home appointment, and we'll help you select the best product for your windows. Dial 513-216-9740 or submit the following form to begin.