What Are The Leading Window Treatments For Over The Kitchen Sink In Cincinnati?
When you're shopping for window treatments, don't overlook the kitchen -- especially above the sink. If you harbor reservations about the constant spattering of food and water disfiguring a window treatment over the kitchen sink in your Cincinnati home, make the smart choice with durable faux-wood shutters. They look spectacular in every room but stand up to the moisture and heat of the kitchen.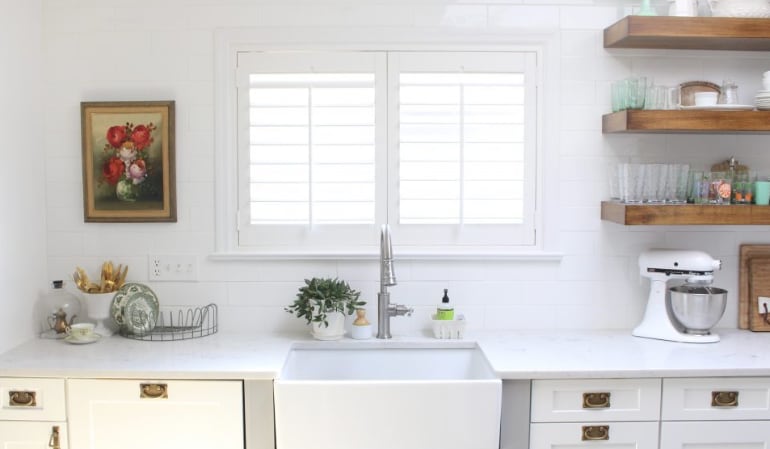 Distinctive Plantation Shutters Elevate All Cincinnati Kitchens
Window treatments over your kitchen sink in Cincinnati should be simple and durable. However, you can still get plenty of elegance when you hang trendy faux wood Polywood plantation shutters.
This timeless option mixes seamlessly with every kitchen design. They come in in various tones of white that complement your kitchen fixtures and decor, and their firm panels of movable louvers create texture that contrasts beautifully with the smooth surfaces of your kitchen. They bring a unique sense of style to both high-end and restrained kitchens and everything in between.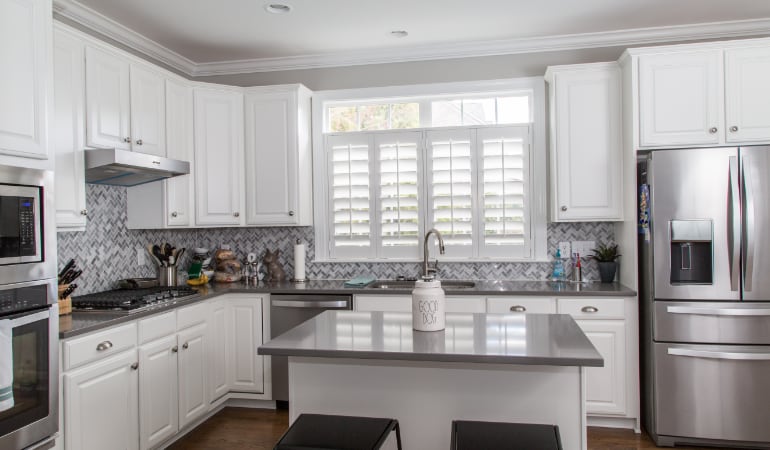 Faux-Wood Shutters Resist Damage From Harsh Conditions
Do you ever see moisture on window panes when you're boiling water or washing dishes? That excess liquid attaches to window treatments over your Cincinnati kitchen sink, where it can damage standard fabric products as time passes.
Install Polywood shutters instead. The patented construction of Polywood and durable finish resist damage from moisture and heat. They are completely waterproof. They will never warp, chip, or split from the humidity in your kitchen.
Natural sunlight and outdoor conditions also won't impact these window treatments. On the window over your sink, these plantation shutters must hold up against chilly drafts and powerful UV rays. These long-lasting shutters won't shrink and expand from the cold outside and heat inside, nor will they fade in sunlight.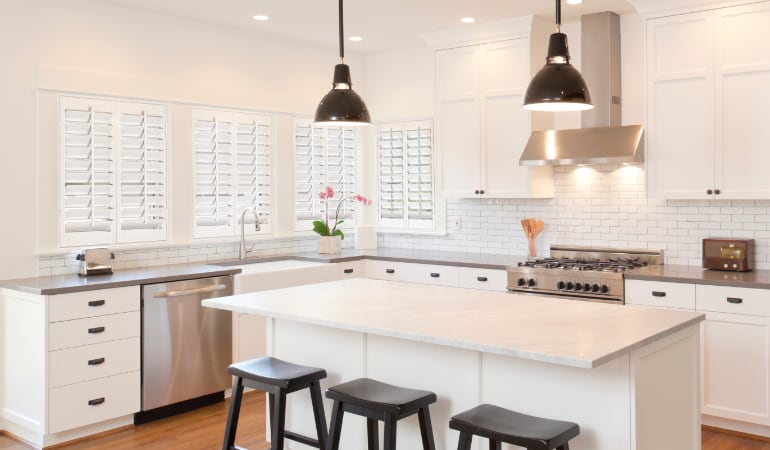 Polywood Plantation Shutters Give You More Light For Kitchen Work
Good lighting is essential in your Cincinnati kitchen. You don't want to cut or burn yourself because you can't see! Polywood shutters bring in the desired level of natural light and are easy to operate. Open the panels or use the tilt rod to move the louvers up and down. You don't have to worry about cords that always get tangled or an inconvenient pull bar that is too high to reach when you need to alter the light levels.
For the brightest light, let the panels swing open entirely. If the sun's rays are a bit much, swing the panels back shut and adjust the louvers to your desired light settings. You can also shift the slats to eliminate unwanted glare in your kitchen. If you don't like neighbors looking into your kitchen at night, shut the louvers tight for complete seclusion.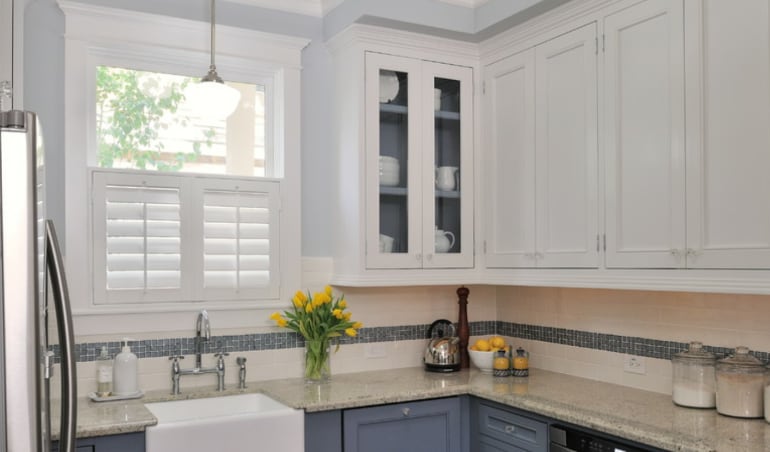 Polywood Shutters Clean Up Easily
It's common for kitchen surfaces to become covered in food particles and grease stains. The window treatment over your Cincinnati kitchen sink needs to clean up easily. This is one reason why Polywood window treatments are great for kitchens. Their hard, smooth finish won't absorb stains and odors like fabric options. You just need to quickly wipe them with a soft, dampened cloth, and they look good as new.
You'll never have to spend too much time gently reaching your dust rag between the louvers as you would with traditional metal blinds. The well-made louvers are durable, and you can choose from different sizes, including wider ones that provide ample space for your hand and cleaning cloth.
Find Window Treatments For Over Your Kitchen Sink In Cincinnati At Sunburst Shutters Cincinnati
Sunburst Shutters Cincinnati offers exceptional window treatments for every window -- and that includes the windows in your kitchen. Speak with our experts about the goals you have for your project, and we'll customize a plan for your home. Contact a friendly representative at 513-216-9740 or fill out the form below to schedule a free in-home consultation.