The Best Window Treatment For Angled Windows In Cincinnati
As rake (or angled) windows are getting more popular in contemporary interior design, common window treatments like blinds or shades just don't cut it anymore. You need a window covering that can highlight the uniqueness of your window, instead of masking it. For this reason and others which we'll dive into, plantation shutters are our number one recommendation for any angled windows in your Cincinnati house.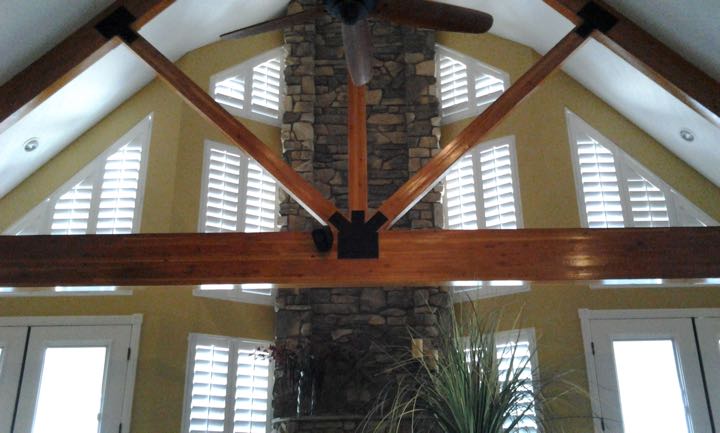 Let's get the facts on how your angled windows would be served best by shutters from Sunburst Shutters Cincinnati.
Custom-Constructed For Any Size And Shape Window
No window treatment can fit angled windows as seamlessly as do custom-constructed plantation shutters.Have triangular windows in your Cincinnati house? Perhaps they're slanted. Either way, Sunburst Shutters Cincinnati can construct shutters that perfectly fit and complement your window's unique shape. And unlike drapes or curtains that hide your window behind a rectangular cover, shutters can truly display the uniqueness of your home's architecture.
Along with letting you keep the visual "pop" angled windows add to your house, plantation shutters also give you several benefits beyond their looks.
Complete Control Of Your Space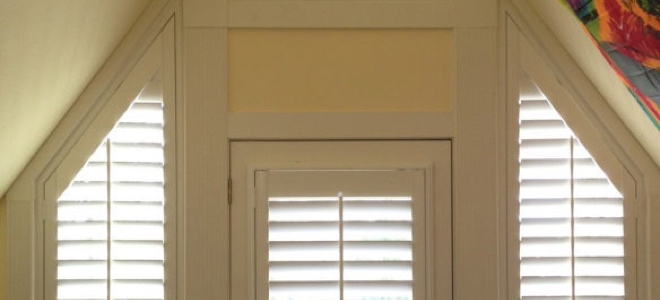 Shutters aren't just an excellent window covering choice based on their aesthetics. They're also the most ideal choice for giving you utmost control over light and temperature in your room. With a simple adjustment of the louvers, plantation shutters allow you to manage how much light you let into your space.
When it comes to keeping your space at a preferable temperature, there's no better choice than our Polywood® plantation shutters since they are built with energy efficiency in mind. When utilized properly, the Polywood Insulating System can block up to 30° of airflow, and can reduce heat transfer by nearly half, which means your house stays the perfect temperature, and your HVAC bills stay low.
For uniquely-shaped windows, ultraviolet-blocking window film is an additional consideration because it can be cut to fit any window shape. Remember though that window film won't offer much visual control of the space, and we recommend pairing them with a secondary window treatment like shutters to allow for more privacy and add style to your windows.
The Value Factor
Like we mentioned above, plantation shutters are extremely effective at insulating your home and saving you money on your utilities, but that's not the only way you can benefit from your window investment. With proper maintenance, the shutters on your angled windows can last decades, while other window treatments might need eventual replacement after just a couple of seasons.
When the time comes to transition from your house and put it up for sale, plantation shutters are a great benefit for possible buyers in Cincinnati. In addition, the personality they give your rake windows can improve walkthrough appeal, just like new flooring.
What's Your Angle?
So we want to ask you - are your angled windows ready to reach their potential? If so, Sunburst Shutters Cincinnati is ready to lend a hand. Call us at
513-216-9740
or use the form at the bottom of this page to set up your free, in-home window treatment
consultation
, during which we can walk you through all your options and help you choose your best fit.