The Top Nursery Window Treatment Ideas In Cincinnati
When you've got a child on the way in Cincinnati, you hope to have every aspect of your little one's nursery just right -- including the window treatments. But in advance of selecting your window covering, remember that safety and functionality are important. Infants are able to yank down curtains or get entangled in blind cords. These coverings won't stop sunlight and drafting for optimal sleeping conditions either. Instead, use child-friendly, energy-efficient interior shutters or cellular window shades as window treatments for your nursery in Cincinnati.
Louvered Shutters Keep Your Nursery Cozy, Safe, And Stylish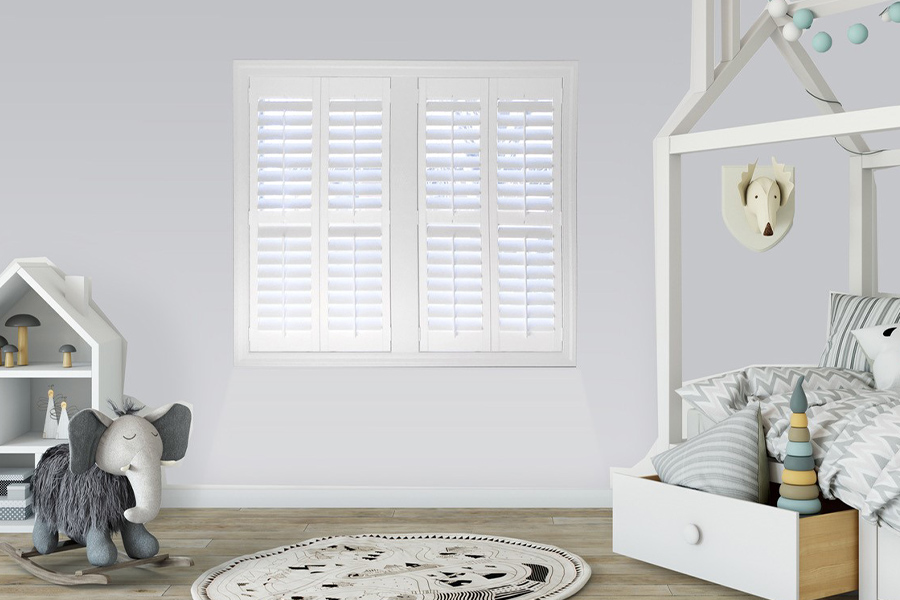 Interior shutters may not be at the top of your list of nursery window treatment ideas in Cincinnati, but they ought to be! These time-tested window treatments look incredible in every room. Their louvered panels create an appealing complement to the soft elements that come with a child's nursery. You might install
white faux wood Polywood® shutters
in spaces with bright or more delicate colors. Stained hardwood shutters may be a better option when your nursery consists of more natural elements or you would like to match existing wood finishings. And if you modify the decor as your child grows, your shutters will still coordinate with the room's new look.
Plantation shutters feature a specialized construction that makes them ideal for kids' quarters. Instead of using drapes or cords for a child to yank on or get tangled in, interior shutters have solid panels with rows of louvers set in a frame that encompasses the window. They also clean up effortlessly when they inevitably get smudges from tiny hands.
Shutter louvers and panels offer many methods for directing exterior light and privacy in your baby's room as well. Swing back the panels for a sun-filled play area or fasten them and tilt the slats out to allow partial sunlight and angle it to the place where your child plays. Then shut the panels and slats to eliminate virtually all outside light for whenever it's sleepy time.
Secured interior shutters block cool breezes as well. Air isn't able to flow through solid wood and faux wood as it can through other window treatments. And our 5-star Ovation® and Polywood shutters use the finest workmanship to minimize openings where air might get past. Polywood shutters also have exclusive weather sealing that causes them to be the most energy-smart nursery window treatments in Cincinnati and ensures your space remains at a consistent temperature for a soothing rest.
Cellular Shades Offer Added Efficiency and Adaptability To Nursery Windows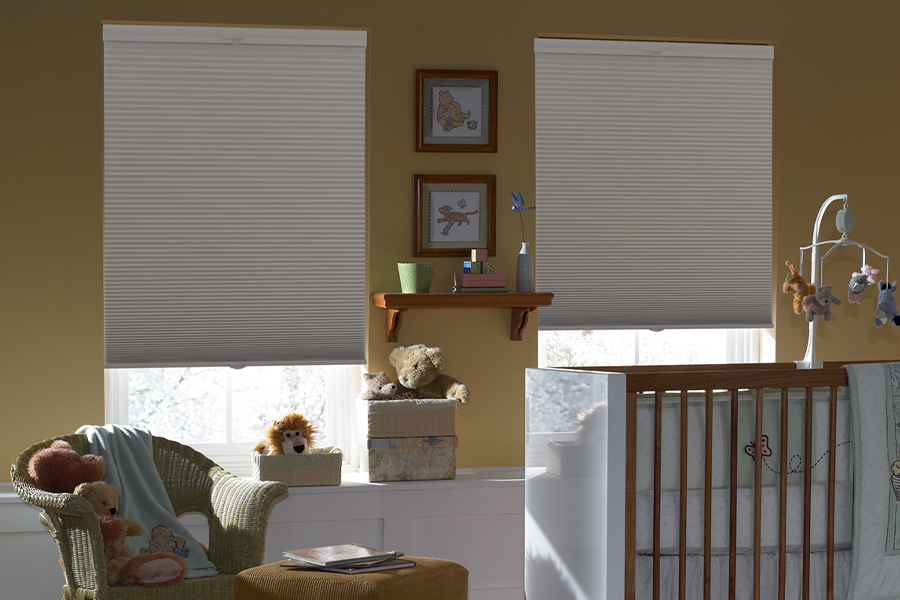 If you prefer a softer option for your nursery window treatments,
try cellular window shades.
These window shades come in different colors, patterns, and materials for you to choose from. You'll even discover styles such as top-down/bottom-up shades that offer extra flexibility with sunshine and privacy or non-corded shades that your little one isn't able to get caught up in.
The top asset of cellular shades is their energy efficiency. Their structure consists of little compartments that trap air coming through your windows before it infiltrates the nursery. They aid in keeping the room at a comfortable temperature and energy expenses down.
Need More Nursery Window Treatment Ideas In Cincinnati? Talk To Sunburst
Regardless of whether you need nursery window treatment ideas in Cincinnati or options for a different area of your home, Sunburst Shutters Cincinnati has your solution. We customize a wide selection of window products that make your home more attractive and comfortable. Reach out to 513-216-9740 or fill out the following form to request a complimentary in-home consultation and discover incredible window treatments in Cincinnati.