Most Popular Window Treatments for Kids' Spaces in Cincinnati
On our design blog we've written about selecting the best bedroom window treatments in Cincinnati, depending on the specific needs of your bedroom. One bedroom may have the most specific requirements of any kind: kids' rooms. Although kids' bedrooms share several similar needs with normal bedrooms, they carry additional specific requirements all their own. So let's look closer at some of the more important features to keep in mind when selecting window treatments for the kids in your family.
The Safest Window Treatments for Children's Rooms
Childproofing your space is something that all parents are probably familiar with - and window treatments play a part in it. Depending on how old your child is, some window treatments are a explicit no-no. For very young kids, any window treatment that has a dangling cord that can cause injury or strangulation is off the table - which means no corded drapes, blinds, or shades. Regardless of cords, kids tend to climb, so forgo any window covering that can be easily yanked down. Additionally, be sure to shy away from any window treatment with a paint or finish that may emit noxious fumes.
As an alternative to any of the above mentioned window coverings, go with a product with a smaller number of moving pieces and lacking any kind of wires or cords. Plantation shutters fit the bill for a childproof window treatment, as do cordless cellular shades. Our Ovation® and Polywood® shutters have finishes that are 100% safe. All of these window coverings avoid any unnecessary threat to your children's safety.
Window Treatments That Maintain Privacy for Kids' Bedrooms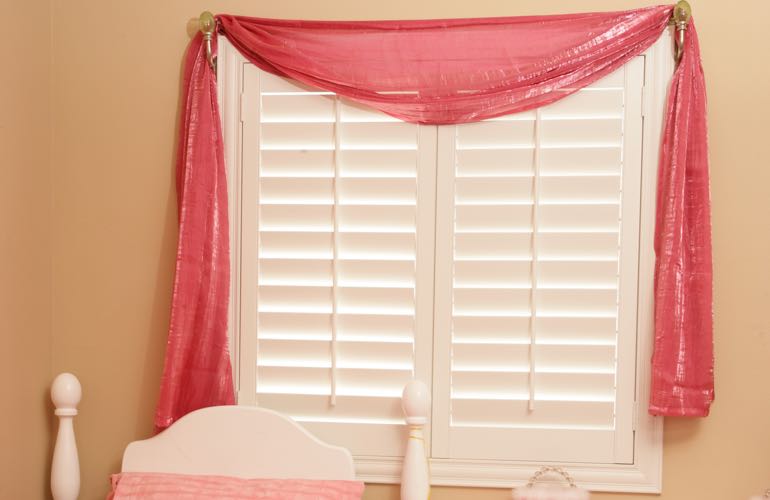 The first necessity we highlighted when we wrote about bedroom window treatments was privacy, which is doubly important when choosing a treatment for the windows in a child's room. Blinds, whether they are vertical or horizontal, can typically be seen through at specific angles, making them poor for privacy. Many drapes and shades, though giving greater coverage in comparison to blinds, might show shadows visible from outside your house.
When you're concerned that your child's room has complete privacy, plantation shutters are once again our number one recommendation. By closing the moveable louvers, plantation shutters let you block all view into your child's room. Various kinds of shades and drapes can also be bought in blackout options, eliminating most outside visibility with their thicker makeup.
Window Treatments Make A Comfortable Kids' Room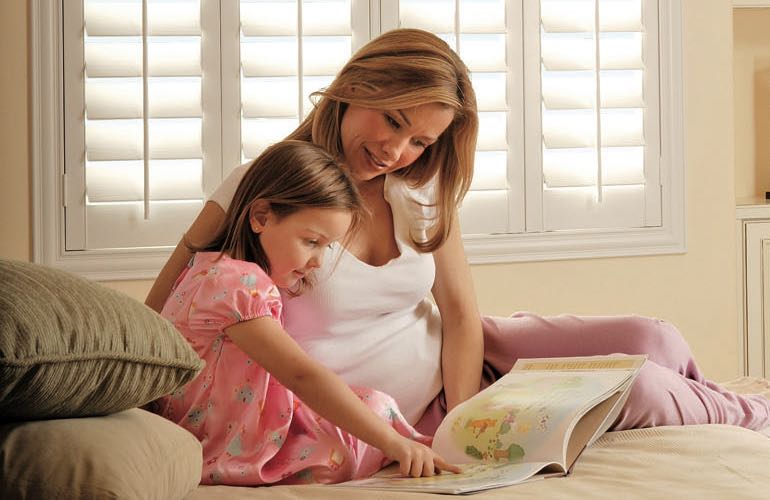 Talk to any Cincinnati parent and they'll tell you that kids are stubborn sleepers. Some evenings it can be easy to have them sleep, while other nights it may be a fight. You may understand that light control is useful in getting children to sleep, but what you don't know is that the bedroom's temperature comfort level can also determine how easy it is. The perfect window treatment can give you optimal control of the temperature and light of your children's room.
Polywood plantation shutters are the be all end all in energy efficient window treatments. When properly maintained, they're able to lower up to 45% of heat transfer through your window, and are nearly 1600% better at insulating than metal blinds. To get an additional boost, pair with UV-protecting window film, which reflects nearly 87% of solar energy. Reaping the benefits of these window treatments can make it easier to get the kids to sleep, so you can get some rest too.
Get The Best Kids Room Window Treatment Today
While you'd like for your windows to be stylish, there are some features that may be more significant in children's bedrooms. Luckily, Sunburst Shutters Cincinnati is ready to help satisfy both of those needs. Call
513-216-9740
or fill out the form at the bottom of the page to set up your
free in-home
consultation
. And to find additional ideas for the other rooms in your house, dive into our
Ultimate Room Window Treatment Guide
.