Midwest Weather Is Unpredictable Make Sure Your Window Treatments Are Prepared
In Ohio and throughout the Midwest we have these things called seasons. That means that unlike other areas, we get the worst of both summer and winter, from scorching hot temperatures to freezing cold. That's why you need dependable window treatments in your Cincinnati home that will put in work all no matter the season.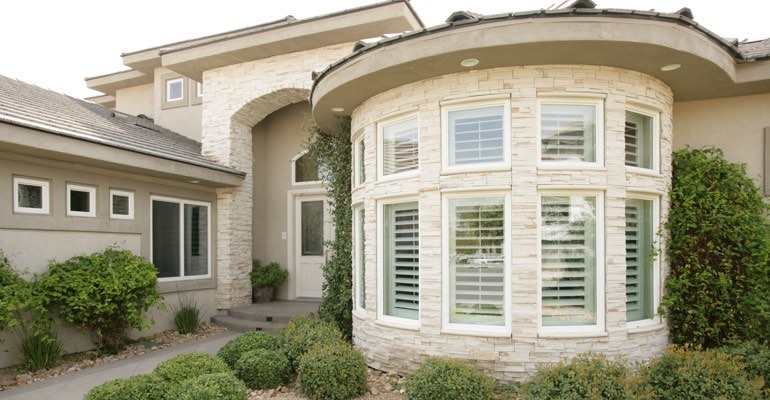 Here are our picks for window treatments that will handle Midwest weather.
Window Treatments To Keep The Midwest Cold Out
When winter comes to Ohio, you know what we're in for: dangerous roads, stuffy noses, and freezing temperatures. And unless your home is properly insulated, you'll be feeling those cold temperatures inside as well. Rather than wasting money on cheap-looking and difficult to install plastic window wrap or placing draft blockers in each gap, opt for a window treatment that can insulate while looking stylish.
No window treatment is more effective at keeping the cold out than Polywood® plantation shutters. With their solid extruded material and custom weatherstripping, Polywood eliminates drafts and energy loss through your windows better than any other window treatment.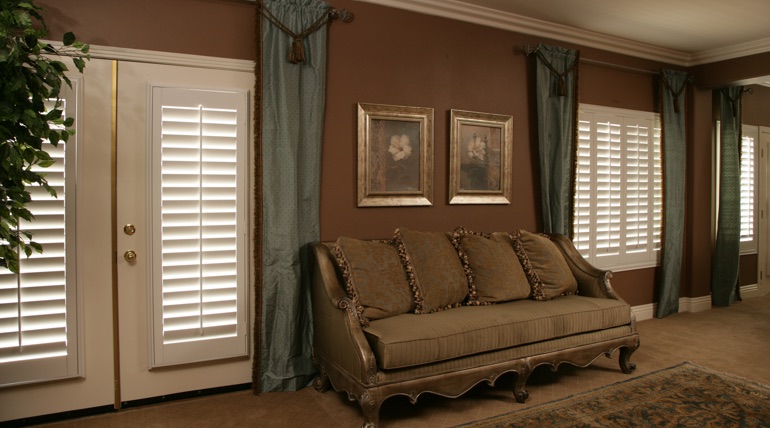 For a slightly less effective window covering, or to double up with those insulating shutters, install heavy fabric draperies. High-end draperies are the coziest looking window treatments, making them great for the colder weather.
Window Treatments To Keep Cool in the Hot Midwest Summer
Almost nothing feels worse than a hot, sweaty Ohio summer day. If you're like the majority of homeowners in Cincinnati, you'll have the air conditioning, a dehumidifier or two, and fans all going during the day. But you can make your home more comfortable – and lower your monthly energy bills by reducing your HVAC's workload – with window treatments that insulate better.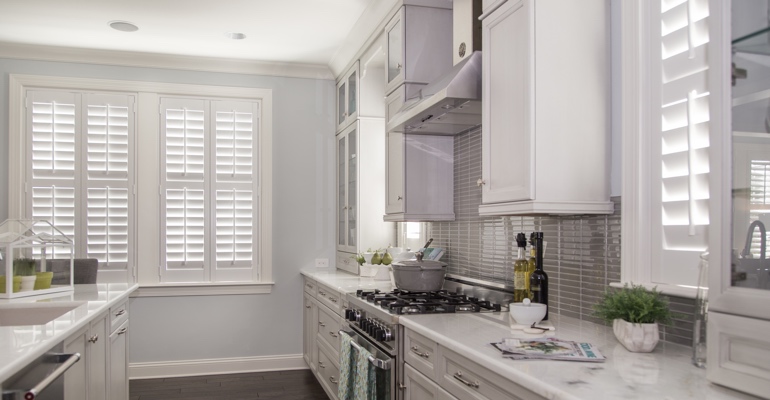 Again, shutters are a Cincinnati home's best choice, since they can block nearly half of the heat transfer through your windows. Additionally, Polywood shutters are totally moisture-proof, which is basically a must-have if your home gets a lot of humidity and you want to avoid mustiness.
Beyond shutters, are a few other window coverings that keep your home cool:
Window film - Blocking 99% of UV rays and nearly 80% of all thermal energy, window film can pair with any other window treatment to further improve your energy efficiency.

Cellular shades - While less effective than shutters, cellular shades are designed to block heat, helping keep your Cincinnati home cooler than premium blinds or shades would.

Barn Door Shutters - Though a less common window treatment, a sliding barn door shutter gives fantastic protection from outside heat, while also giving a unique and historic aesthetic to your home.
What Window Treatments Best Complement Midwest Style?
Homes in Cincinnati and throughout the Midwest can be pretty diverse, but many of them share some common elements. Many homes are inspired by Craftsman designs, making Craftsman Shutters a perfect fit. And you can't go wrong with cellular shades, particularly if you can accentuate the look of your furniture or find some in a neutral tone. Midwest homes usually put substance over style, so steer clear of anything too garish, or else you could lose your home's distinct look.
Find Your Midwest Shutter Experts for Help
For more help on how to best decorate your Midwestern home, call Sunburst Shutters Cincinnati today at 513-216-9740 to set up a complimentary in-home window style consultation. We'll help you step up your home design so it's more than just "Midwestern Nice."