Interior Shutters: The Top Patio Door Window Treatment in Cincinnati
No matter if your patio doors are a sliding glass door or beautiful French doors, a trait they share is their large windows that offer you an excellent view outside. However, that much glass may cause a few issues, such as heat loss, privacy, and sun glare. That's why you need the right window cover to enjoy the benefits of your windows.
Find out why home plantation shutters are the best patio door window treatments in Cincinnati and how they can solve these tricky problems!
The Top Sliding Door Window Treatments For Cincinnati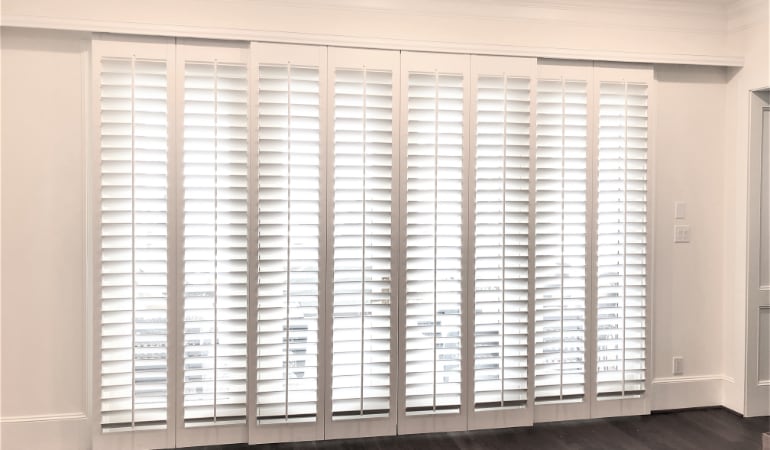 Sliding glass doors are a common patio door for lots of homeowners in Cincinnati. As their name implies, sliding patio doors usually consist of two or more full-size windows, one of which slides over the other. While they invite in lots sunlight, they are also among the most frustrating doors to cover. A lot of glass means a ton of heat loss and privacy issues -- not to mention the sun glare if your backyard lies to the east or west.
The best sliding glass patio door window treatments in Cincinnati are plantation shutters. These interior shutters don't attach to the door itself but instead glide across the front of it. When sun glare turns into a problem, push the shutters in front of the door and tip the louvers to direct light -- or close them entirely for full privacy. Most sliding door shutters are fabricated from faux wood, like our Polywood® shutters, so you also get energy-saving benefits.
Sliding door shutters provide resilience and ease of use, thereby enabling frequent activity in and out of the patio. The most popular configuration of shutters on a sliding door is Bypass. Bypass shutters pass behind each other on a track to open the doorway.
The Most Functional French Door Window Treatments For Cincinnati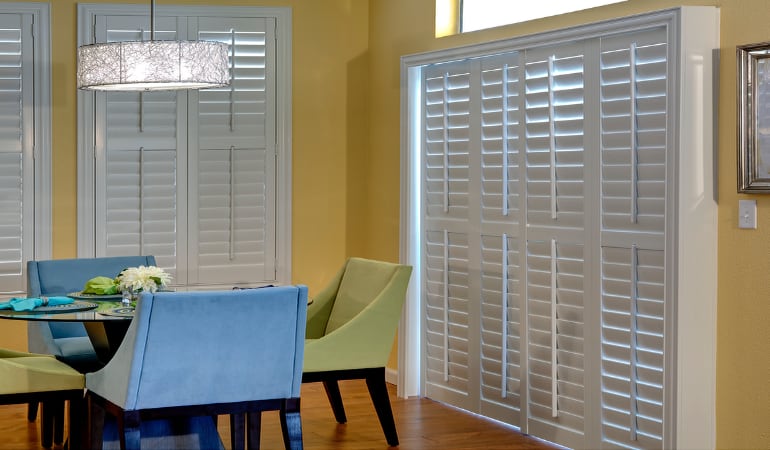 If you lack a sliding glass door opening out onto your patio, you possibly have another common door option: French doors. This style of entryway has two doors that open apart from each other. The result may be a little more impressive than a sliding glass or typical door, but they share similar issues. Big sheets of glass permit energy loss and sun glare.
It should be no surprise that wood substitute interior shutters also prove to be the ultimate French door window treatments in Cincinnati. They have the same appeal, longevity, and environmental friendliness that sliding door shutters provide, except they can fasten directly onto the French door frame. Consequently, your French door plantation shutter operates much more like your common window shutters, and you aren't forced to slide them over to go through the door.
Sunburst Shutters Cincinnati Has The Perfect Window Treatments For Your Patio Doors
Whether you intend to revamp a sliding glass door, French doors, or a normal window door, Sunburst Shutters Cincinnati has you covered. We'll explain to you how our Polywood shutters will lend your patio doors the energy-efficiency and appeal they should have. Contact us today at 513-216-9740 or complete the form below to schedule your free in-home or virtual consultation.