Top Window Treatments For A Home Library In Cincinnati
The window treatments in your home library in Cincinnati could be deemed unimportant, but they actually offer a lot to help you create the perfect space for reading and relaxing. The smartest options give you the ability to manage light levels, privacy, and even the temperature in the room! If your home library window coverings fall short of those standards, we propose you consider louvered plantation-style shutters. Here are some good reasons to make the change.
Choose Between A Bright And Sunny Or A Dimmer And More Private Home Library With Faux-wood Plantation Shutters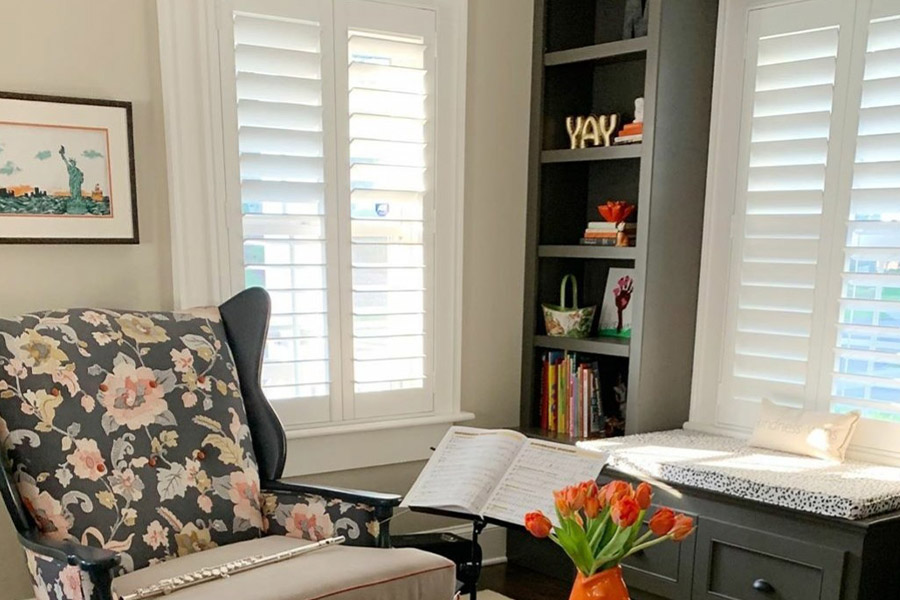 Your home library should have enough light for browsing your favorite reading material. But sometimes too much light causes eye strain. And how about when you are looking for a more foreboding environment for reading a a good mystery? The best window treatments for home libraries in Cincinnati give you the opportunity to effortlessly switch between a flood of sunshine and darkness.
Louvered shutters are a cinch to operate. You are able to pull open the panels for total sunshine when electric lights aren't adequate for your perusal of a paperback or if you would like to lower your electric bill. If the sunshine is too intense, keep the panels closed but angle the louvers for the perfect level of illumination. You can even use the louvers to redirect glare off your paper or mobile device and enjoy just the right balance of light to avoid eye discomfort. And when you would like a darker, cozier home library, the opaque faux-wood panels and louvers close tightly for near-total darkness.
Block Outside Distractions And Noise While Reading With Louvered Shutters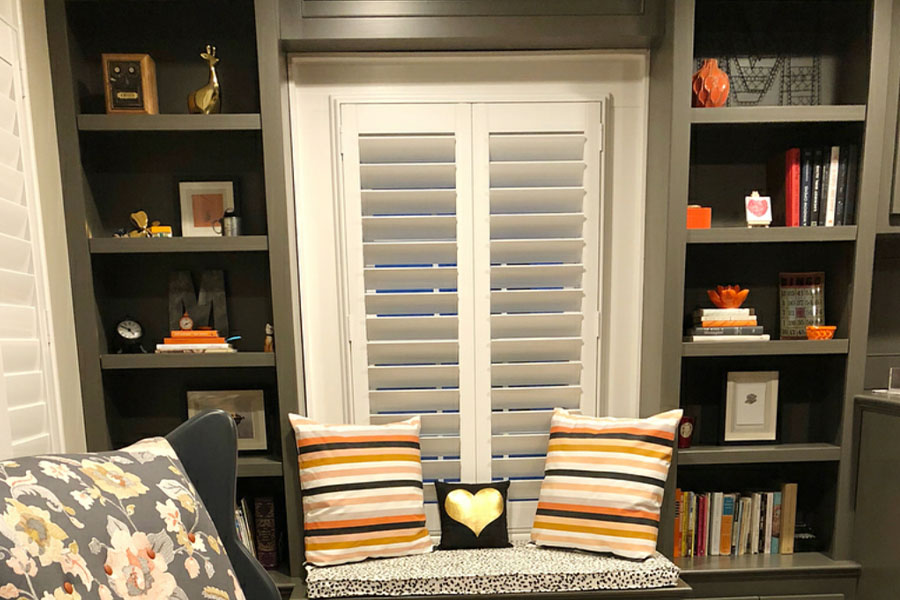 If you're ready to unwind with a good book, the last thing you want is a racket from the exterior of your home. Polywood shutters will block these annoyances when you need a calm and quiet environment. Simply shut the shutter panels and slats if you prefer not to catch sight of people or Cincinnati traffic in your peripheral view as you try to enjoy your book. Your sealed shutters will keep everyone from glimpsing you in your secluded space as well. And unlike many other products, you have the ability to adjust your louvers to bring in a bit of light so you can read while preventing sightlines from outside your home.
Sturdy faux-wood shutters even do an amazing job of muffling outdoor commotions when you compare them to lighter weight options like blinds. Did a person across the street start a lawnmower just as you had arrived at the good part of your novel? Shut your shutters for a little extra tranquility when reading.
Keep Out Window Drafts With Polywood's Superior Insulation Properties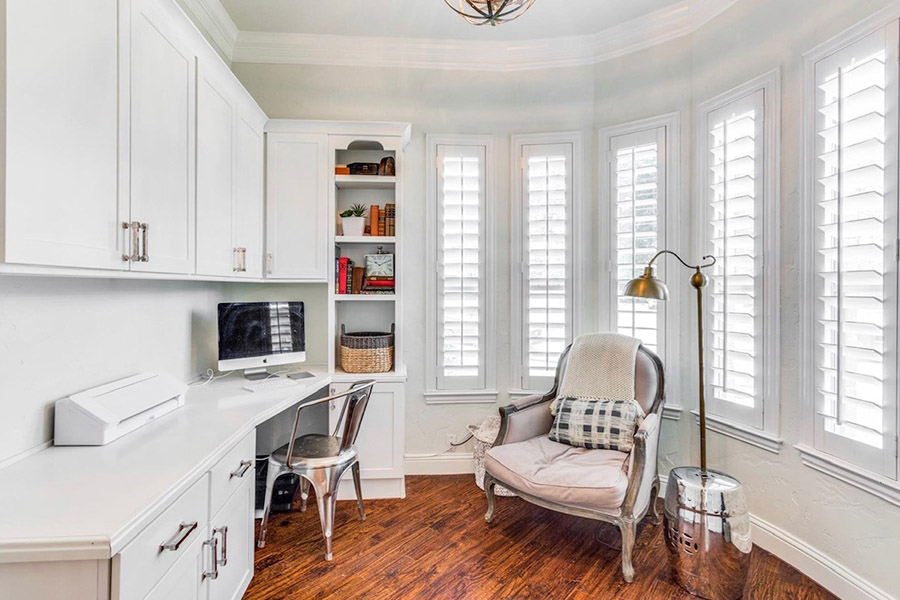 Along with providing solutions for sun and exterior disturbances, your distinctive faux-wood shutters minimize drafts that may impact your comfort while you relax in your favorite easy chair.
Polywood shutters have better energy efficiency
than any other window treatment. Both cold air and warm UV rays aren't able to infiltrate their composite material. And their exceptional fabrication stops outdoor air from slipping past edges. Interior shutters will stop up to 30 degrees of temperature conveyance from your area's windows to shield your books from sun and drafting while keeping you comfortable.
Sunburst Shutters Cincinnati Offers The Best Window Treatments For Your Home Library In Cincinnati
Create the best area for reading and relaxing with Polywood shutters from Sunburst. We bring shutter samples to your residence to demonstrate how they look in your room. Once you decide to move forward, we'll build your window treatments to the exact measurements of your window openings. Get started by reaching out to us at 513-216-9740 or submit the form on this page to arrange your free in-home consultation.