Five Suggestions To Create The Ideal Media Room In Cincinnati
The latest audio and video equipment makes it easier than ever before to immerse your senses in gaming, movies, and your favorite TV shows as you kick back in your own media room. This is the reason why Cincinnati families are increasingly creating home media rooms. But what is required to produce an incredible home media room? From ideal window treatments to equipment, check out these five ideas for creating a media room in Cincinnati that everyone will enjoy.
#1 Take Charge Of Sunglare With Plantation Shutters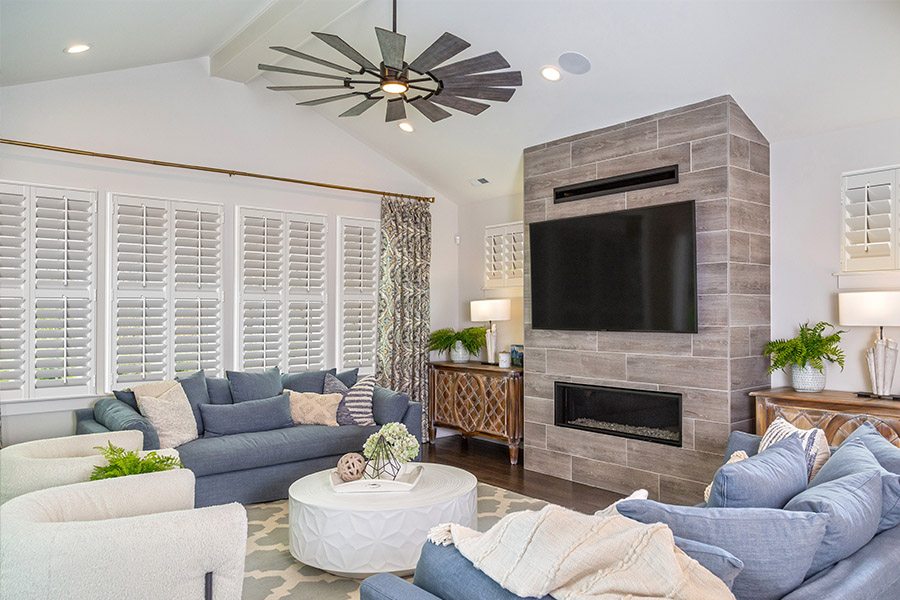 Few things can spoil a movie like glare on your TV. Light dimmers are nice, but what what's best for outside light? Choose
interior shutters as window treatments
in your media room in Cincinnati for the best control of sunlight. Plantation shutters include a framework that encloses your window frame to keep out light. These sturdy installations also have panels on hinges with moveable slats that shut closely to achieve near-total blackout. You may also tilt the louvers as you wish to shift exterior light away from screens or your sightline without having your room resemble a dark cave.
In the event you use Polywood® shutters, you'll enjoy better window insulation too. These faux-wood shutters block the sun's rays and airflow to help your media room stay at a comfortable temperature level. They are capable of preventing around 30 degrees of temperature transfer, lowering your energy costs.
#2 Improve Your Media Room's Acoustics With Some Minor Renovations
Once you fix the lighting in your Cincinnati media room, focus on the audio experience. Drywall works well for your media room's walls, but basement concrete ruins the quality of sound. The simplest way to control echoing in your lower ground media room is by inserting sound absorbing panels. When you have to resolve the sound issues in your media room, go with do-it-yourself sound dampening or deadening products. Then add in window treatments, like shutters, to control exterior noise.
#3 Invest In The Right Devices
The appropriate equipment will give you superior acoustics as well. Start with a surround sound configuration. A great number of residents prefer devices with Wi-Fi capability since there's no need to deal with hiding wires.
Don't forget about getting an amazing flat screen. Popular LED TVs are brighter, but 4k televisions typically have greater contrast levels and viewing angles. You could also go with a projector-screen combo for a large media room. Whatever television you select, place it further up your wall for improved viewing angles.
#4 Pick Out Comfy Sofas And Chairs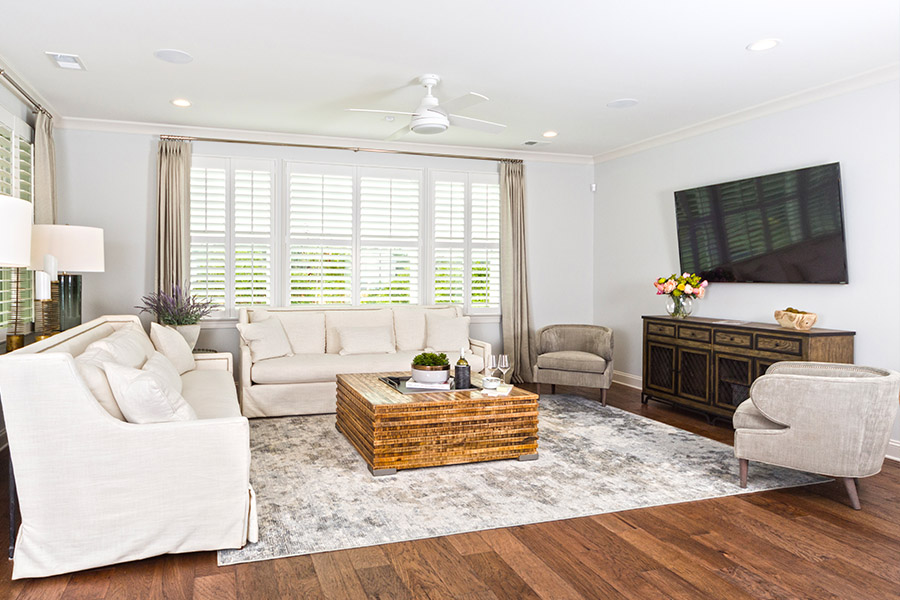 It's hard to enjoy the big game without a comfortable seat. If you want home theater vibes, look for specialized seating with reclining functionality and cup holders for your drinks. For gamers, buy a few chairs suitable for long hours at play. A large, comfy sectional is a smart choice as well. While you're at it, add several plush throw blankets and cushy pillows to hunker down for those nights of binge watching.
#5 Redecorate With A Fun Theme
Design however you desire when creating a media room in Cincinnati. Do you love Old Hollywood? Is your goal to create the sense that you're sitting in an actual theater? Framed movie posters, a classic popcorn machine, and bold colors should reinforce the purpose of your media room.
For a more understated feel, design around your preferred color scheme. Warmer hues with wooden trim and complementary Ovation® shutters will make your media room feel snug. You might also make it open and inviting with softer, neutral shades and Polywood shutters.
Consult With Sunburst About Window Treatments For Your Media Room In Cincinnati
The specialists at Sunburst Shutters Cincinnati will help you find window treatments you love for your media room. At your no-cost in-home meeting, we'll present how different solutions look in your home before you make your ultimate choice. Arrange yours today by dialing 513-216-9740 or by filling out the form on this page.