Stylish Kitchen Window Treatments for Cincinnati Homes
With regards to looks and practicality, your best bet for window treatments for your kitchen are faux wood blinds or faux wood shutters.
Why are those two the best options? Faux wood shutters and blinds are the window treatments that can best stand up to the messes and moisture of the kitchen, in addition to giving you privacy and fantastic looks.
See how shutters and blinds can stand the heat, and stay in the kitchen in Cincinnati homes.
Faux Wood Shutters Are Your Kitchen Windows' Perfect Match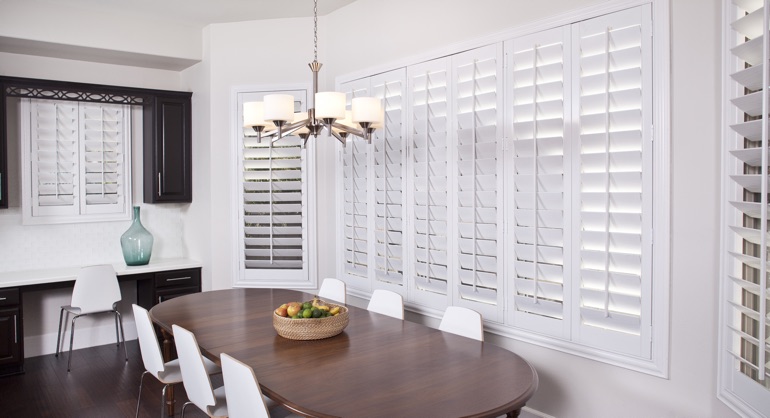 It should be waterproof. Steam from boiling pots of water, splashes from the sink, or spilled drinks can destroy the appeal of most window treatments. Faux wood shutters are 100% moisture-proof, in addition to their protective coating and finish.

It needs to be easily cleaned. It's a fact – kitchens get messy. So when that tomato sauce flies toward your window and onto your shutters, all it takes is a wipe with a damp cloth to get them back to their original shine.

It should be easy to use. Have to open your window quickly to let out steam or smoke? Trying to put your freshly baked pie on the window sill to cool? Shutters are simple to operate, and offer full use of your window.
Most other window treatments can't do any of those, let alone all of them. Fabric window treatments such as shades can easily stain, any real wood window treatment won't handle the moisture in a humid room like the kitchen, and aluminum blinds can be a hassle to operate in a pinch.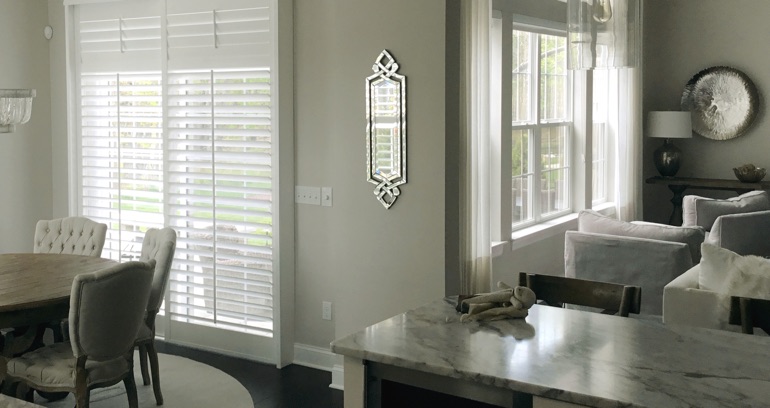 Not to mention the fact that faux wood shutters look incredible in the kitchen. With marble, hardwood and slate countertops all the rage in Cincinnati, plantation shutters give your kitchen a look that can rival anything in a design magazine.
That's why Polywood® plantation shutters are a kitchen window's perfect match.
Faux Wood Blinds – Vintage Window Treatment For Contemporary Cincinnati Kitchens
Faux wood shutters are our top pick for Cincinnati kitchens, but they aren't the only thing that will work. In Cincinnati, faux wood blinds are our runner-up for best window treatment for the kitchen.
Faux wood is always going to be water resistant, so we're headed in the right direction. Since faux wood blinds also won't stain, a wet cloth will get them looking pristine again after a mess. Remember that blinds have more slats than shutters have louvers, meaning a little more work to clean. Also keep in mind that certain blind cords could rot or wither after prolonged exposure to humidity, so be sure to ask about the cord material.
Faux wood blinds are also perfect for windows near the sink. In some Cincinnati kitchens, an appliance or extensive cabinetry might block shutters from opening. With blinds, you don't need as much room to fully open your window.
And their looks are gorgeous. They may not be as versatile as Polywood shutters, but faux wood blinds can easily match other natural materials such as a marble countertop or hardwood cabinets and trim.
FAQs about Kitchen Window Treatments
Is there a reason why you don't recommend fabric window treatments like drapes or shades for windows in the kitchen?
Most fabric window treatments like draperies or shades can easily get stained, so they're impractical for a busy kitchen. The humidity in a kitchen might also result in mildewing.
Do you recommend a certain color for my kitchen shutters or blinds?
In a kitchen, it's hard to go wrong with a neutral hue. A solid white or off-white is a great choice, as they'll match any new appliances or countertops you install in the future. Blacks, grays and earthtones also work well.
Which window treatment do I need if my kitchen window uses a crank to open?
If your kitchen windows use a crank, you can still put in shutters. We offer shutters with cut-out panels, giving you full access to your window.
Are there any kitchen window treatments that are heat-resistant?
Polywood shutters are fire-resistant, and won't show discoloring even from prolonged exposure to heat, whether from the sun or from the range.
During a kitchen remodel, when should I install new window treatments?
Your window treatments, whether they're shutters, shades or blinds, will usually be the last part of a remodel. However, it may be beneficial to involve your window treatment vendor early on in your remodel to make the whole thing run smoother.
Get The Kitchen of Your Dreams With Better Window Treatments
Faux wood shutters and faux wood blinds are our top picks for most Cincinnati kitchens, but each kitchen is unique. If you want some personal attention for your windows, schedule a free in-home consultation with one of Sunburst's window experts. Call us at 513-216-9740 or use the form below.
And for window treatment tips for the other rooms in your home, check out our Total Room Window Guide.