9 Ways You Can Use Sliding Barn Doors In Cincinnati
Sliding barn doors are the decorating trend that has people talking in Cincinnati. The barn door's timeless wood covers windows and doorways to create a contemporary design to die for. And if you consider the selection of barn door options and hardware available - and the unique installation service Sunburst Shutters Cincinnati delivers on, the ways you can use sliding barn doors are infinite.
Want to explore the possibilities? Here are 9 ways you can use sliding barn doors in Cincinnati:
1. Sliding Barn Doors As Window Shutters
One of the most original ways to use barn doors is to install them on a window. They can be custom crafted to fit the exact measurements of your window. Similar to plantation shutters, they block the scenery and the sunlight when you slide the door panels closed. Nevertheless barn doors for windows also provide a beautiful frame for the view when you slide them open to the side. Learn more about sliding barn doors for windows here.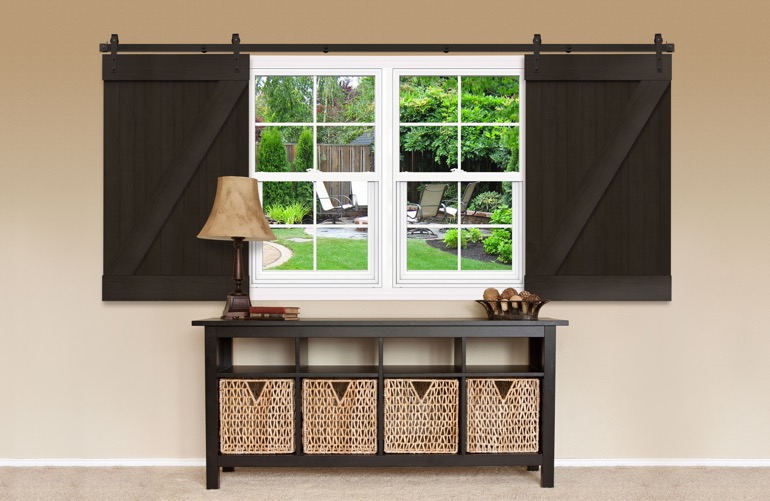 2. Sliding Barn Doors For The Bedroom
As bedroom doors, sliding barn doors are the preferred style to regular doors. Move the barn door open to reveal your retreat. Slide it over the doorway and admire how the woodwork of the barn door complements the style of the room and mirrors your personality beautifully. Whether you're laying your head on the pillow at night or stretching with a yawn in the morning, you'll find your eyes wandering to the wooden piece of art in the doorway.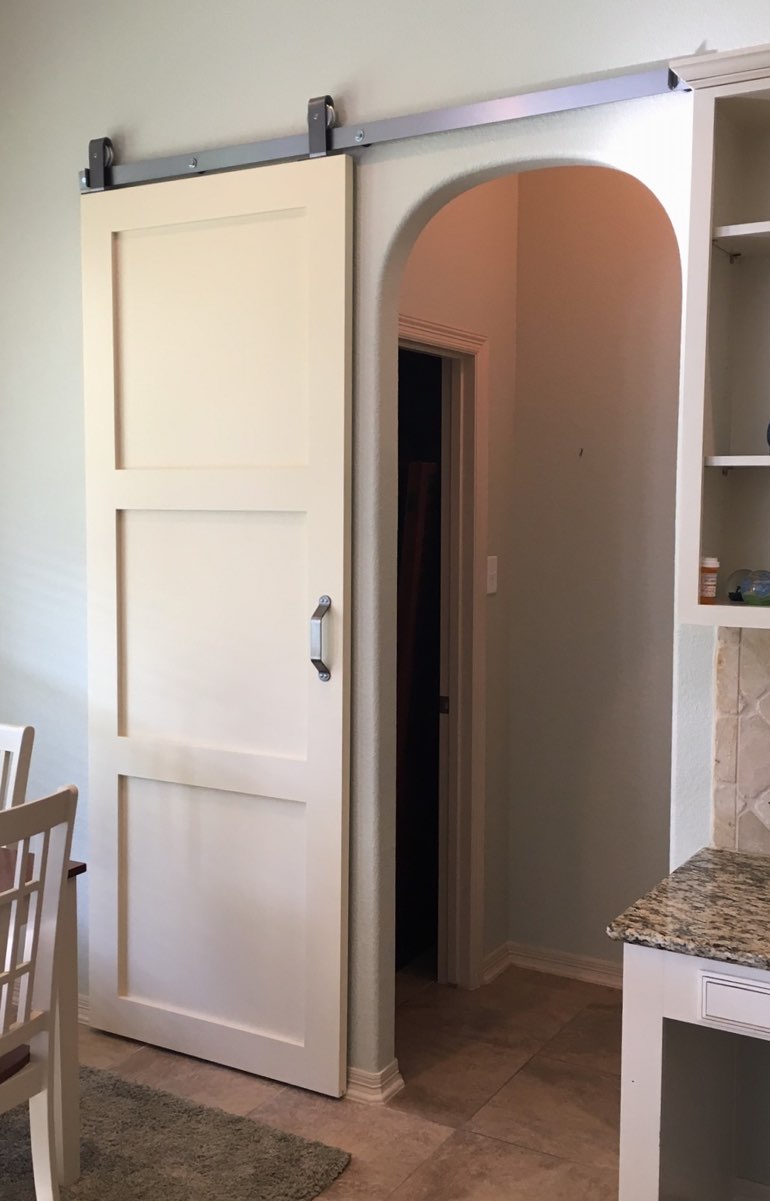 3. Sliding Barn Doors As Bathroom Doors
Extend the relaxing atmosphere of your bathroom by substituting your regular door with a sliding barn door. The barn door's solid wood creates a natural soothing presence. The system of tracks mounted on top makes sliding it open and closed easy. And you won't have to worry about the sliding barn door swaying, thanks to a floor glide. So go ahead and open and close it as many times as you want.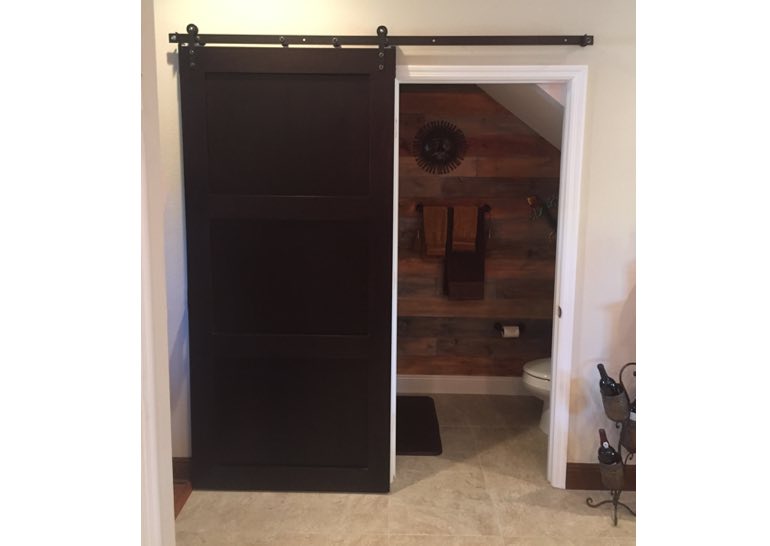 4. Sliding Barn Doors As Closet Doors
For built-in closets with wall space on either side, sliding barn doors are a great alternative to regular closet doors. Close them to hide all the items masterfully. Simply glide them to one side to grab something.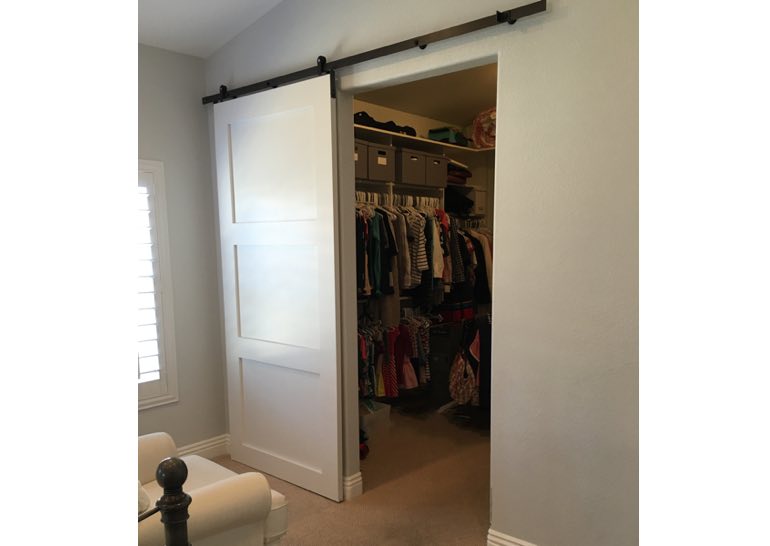 5. Pantry Sliding Barn Doors
In Cincinnati, ask any homeowner and they will share with you that the kitchen pantry is more times than not forgotten in the process of decorating. Now it's easy to match the pantry's doors to the design of your kitchen or dining room with sliding barn doors!
Change out the pantry doors and replace them with sliding barn doors for a contemporary layout that will wow your guests. The sliding pantry barn door in the picture below is a custom crafted five panel barn door. Browse through more sliding barn door styles here.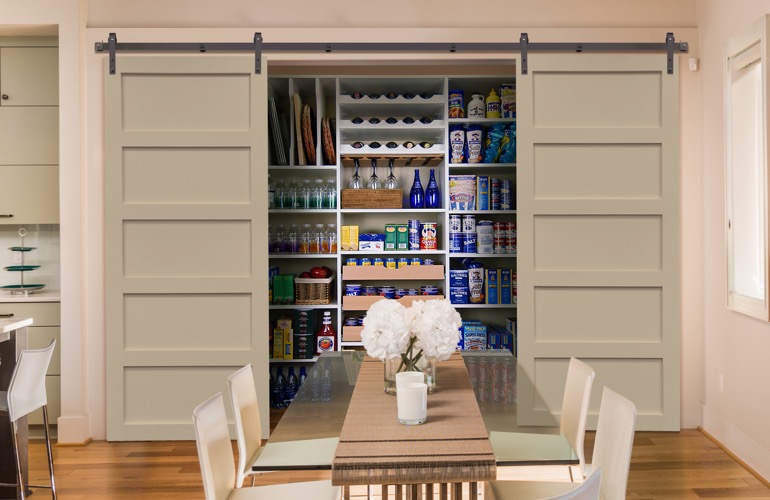 6. Sliding Barn Doors For The Big Screen TV
When the TV is off, you're left with a blank screen on the wall. It doesn't go with the style of the room. And you find yourself looking at a black void. What if you could hide the television with decorative sliding barn doors?
Custom built to the length and width of your TV, barn doors move on a track to cover the screen. And they glide smoothly to the side so you can watch your favorite show. Sliding barn doors are the most sensible way to conceal your TV and have charming wall art with one product.
7. Home Office Sliding Barn Doors
Add an inspiring element to your home office with a sliding barn door. Slide it closed to eliminate distractions. Glide it open to change the scenery. And all the while, you're enjoying the organic beauty of a barn door customized to your personal taste.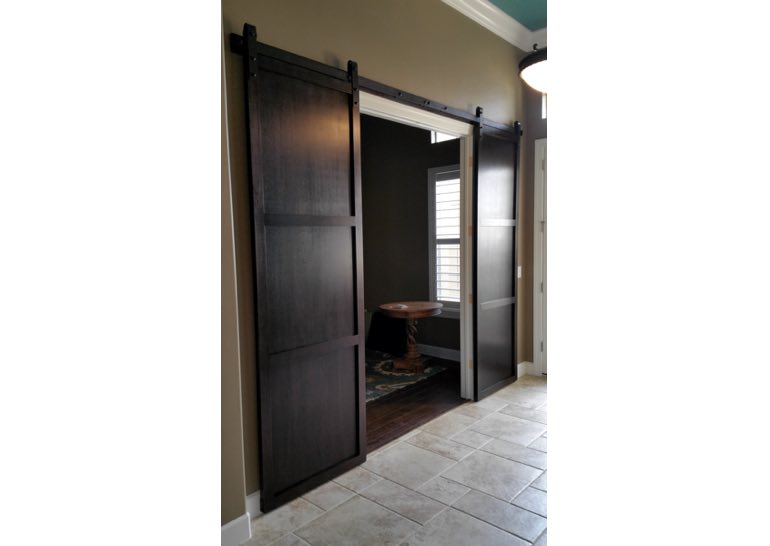 8. Sliding Barn Doors For Your Business
Add the modernized feel of barn doors to your place of business with sliding barn doors. They're a beautiful alternative for office doors. And they are sure to make an excellent impression on guests and clients as conference room doors. Select the style of sliding barn door that complements your brand best here.
9. Decorative Sliding Barn Doors
Use a sliding barn door in place of a door simply because it's elegant. Customize it with your choice of style, options, and hardware. And your decorative sliding barn door will be striking as a piece of art in any room.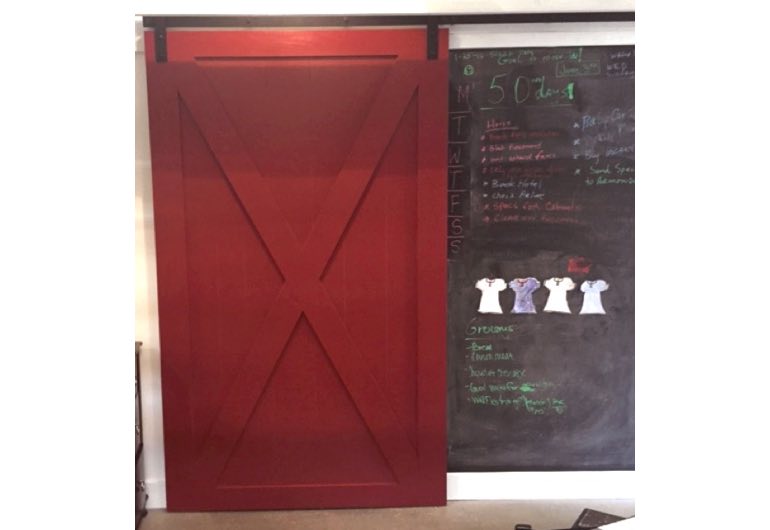 Get More Sliding Barn Door Inspiration
Looking for more uses for sliding barn doors? View our
idea gallery
for the newest images of sliding barn doors in Cincinnati.