8 Great Applications for Reclaimed Wood in Your Cincinnati Home
Cincinnati homeowners love reclaimed wood and the natural, unpretentious beauty it brings to their homes. It's proving to be a desirable way to upgrade weathered wood and unleash your personal style. Reclaimed wood products make a vivid statement whether on a wall, your cabinets, or – yes! – your windows. Think you could use some suggestions on using reclaimed wood? We've got 8 great ideas for you – all applied to gorgeous effect in Cincinnati homes.
1.Reclaimed Wood and Windows
Now here's a first you'll appreciate: reclaimed wood is finally available to you in a window treatment. Sunburst Shutters now offers a plantation shutter crafted from the finest reclaimed wood. As you'll surely discover, Sunburst is the sole company providing reclaimed wood shutters in the Cincinnati area. We found the reclaimed wood you love and used it to create a louvered shutter that's as functional as it is beautiful.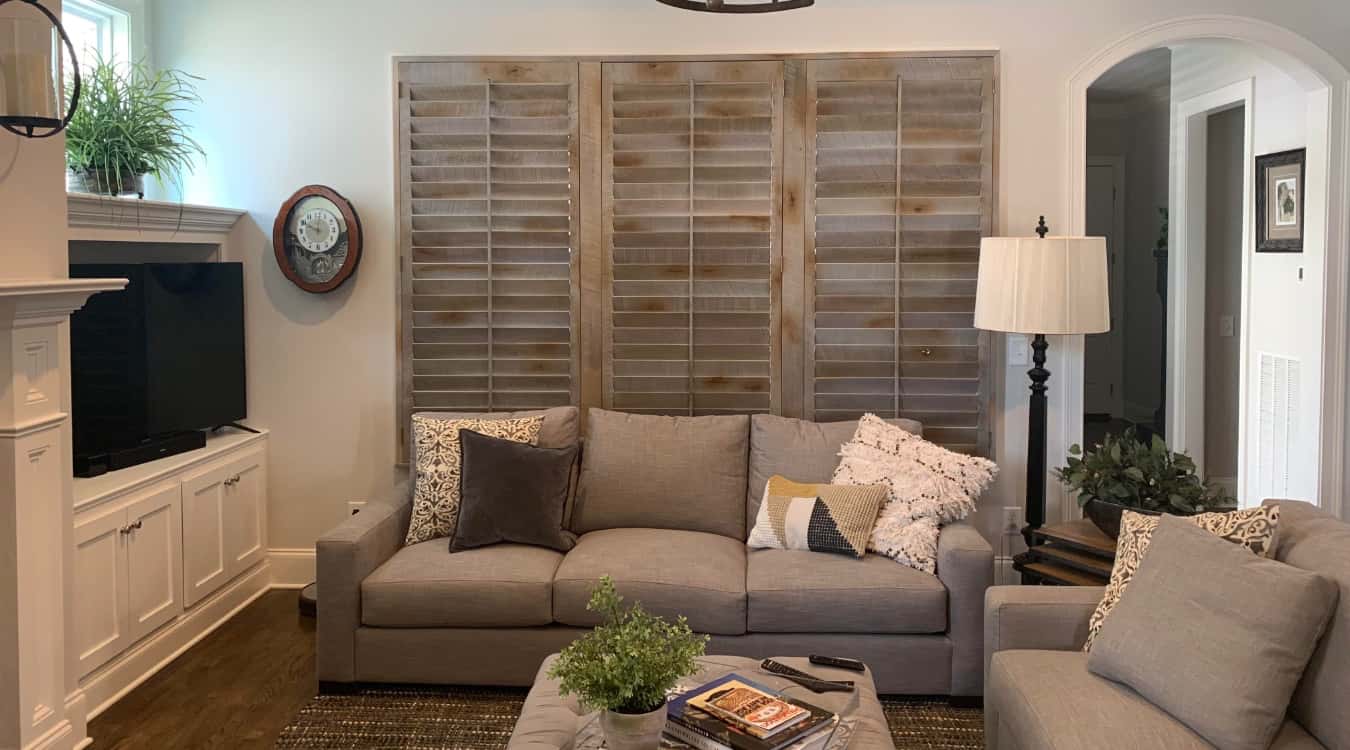 Reclaimed wood can make for a most unique window treatment. It makes a difference, certainly, that your reclaimed wood shutters are viewed by many as valid artistic pieces in and of themselves. And Sunburst makes sure they are. You'll find there's just as much to like about their operation as there is to like about the way they calm the mood of a room. Tilt the louvers open to bring a little light inside. And tilt them closed to accentuate the weathered look of reclaimed wood on your window. Discover more about reclaimed wood for windows in Cincinnati
2. Redo Your Walls with Reclaimed Wood
Nothing brings the outside inside as wonderfully as a reclaimed wood wall. Reclaimed wood paneling invigorates a wall without overpowering it and lends a homey feel to the room. No matter if you have a bookcase, fireplace, artwork, or TV to offset, a reclaimed wood wall will look amazing behind it and produce the very effect you you desire.
3. Floors of Reclaimed Wood
Been thinking about redoing a floor in your house? Lots of wood flooring can make a room feel warmer, but flooring of reclaimed wood has a singular beauty borne of the time – generally decades – the wood has remained outdoors. Whether you're a bona fide nature lover or someone who's simply drawn to the look of weathered wood, you'll be thrilled with what a reclaimed wood floor can do to enhance your home.
4. Use Reclaimed Wood in Cabinets
What better excuse could present itself to enhance the look of your kitchen cabinets now that better-quality reclaimed wood is so well within your grasp? It's the natural way to dress up your entire kitchen. Every panel of reclaimed wood evokes a rich story – of decades [[spent in an old building, maybe, or as part of a barn or fence. And a piece of that story will linger on in your reclaimed wood cabinets, called forth each time you reach into them.
5. Reclaimed Wood Makes a Great Table
Tabletops incorporating or wholly consisting of reclaimed wood can lend a modern, totally transcendent ambiance to your dining room or home office. Meld the subtle, natural hues of reclaimed wood with your décor for a cohesive look that comforts you – as it takes your guests' breath away!
6. Your Bookcases Cry Out for Reclaimed Wood
Forget for a moment what other things we might hold dear about them, books make fantastic decorative pieces. Arrange a book or selection of books on a coffee table or end table, on a bookshelf, or in a big bookcase, and they'll inevitably make a good impression. Their charming variety is both differentiated and harmonized in bookcases of real wood, too. And bookcases of reclaimed wood, with their natural colors, knots, holes, scratches, and other telling features, provide a decidedly distinctive, one-of-a-kind showcase.
7. Reclaimed Wood for Frames
The rustic, natural look of reclaimed wood is perfect for picture frames. Use it to showcase your favorite artwork and most cherished photos in a most elegant manner. It's worth noting, too, that frames of reclaimed wood can be assembled in a multitude of styles, so they'll match just about any look you've established for your home.
8. Use Reclaimed Wood for Your Headboard
Few things can lift the appearance of a bedroom like a smartly designed and constructed headboard. It's really a matter of preference today as to whether people have their headboard directly affixed to the bed or fastened to the wall behind the bed. Either way, a headboard created using reclaimed wood planking can be extraordinarily beautiful. It's natural hues and effects of weathering lend themselves to a diverse number of styles, from antique to modern. With reclaimed wood, you'll discover there aren't any limits on your imagination to to stop you from designing the headboard that dreams are made of!
Let Reclaimed Wood Revitalize Your Design Sense
Our goal was to inspire you with these 8 ideas for using reclaimed wood. Of course, we have plenty of other ideas kicking around – ideas that work beautifully with the reclaimed wood shutters only we make so readily available in Cincinnati. Our team would be delighted to show you samples of our shutters, answer your questions, and give you a range of other superb design ideas. Contact us at 513-216-9740 to arrange your free in-home design consultation today!